Never Forget That Your Client's Original Goal Was to Beat the Bank
I've been mingling with clients for years and it never fails to shock me just a bit to hear how simple both their goals and their reasons for investing really are. For the most part, clients simply want to beat the bank, especially in low interest rate environments. They want to educate their children and build a retirement fund. That's it. They aren't trying to hit home runs. They are trying to hit singles and doubles. You can deliver singles and doubles all day long.
I know that sounds obvious, but I state it for a reason.
Too many Advisors get caught in the trap of overpromising when there is no need to.
We don't manage money, most of us. We manage expectations. When we overpromise, when we elevate expectations, we set ourselves up to fail. When we fail to meet expectations, when we underperform, we damage or destroy relationships.
To overpromise is to underperform. When we underperform we naturally stop communicating, because we don't want to focus on poor performance. That's no way to run a business.
Every Advisor wants to (and often thinks he does) offer great service.
Well, meeting client expectation is a major component of great service.
Clients expect your recommendations to work. When they don't, you are guilty of lousy service. It doesn't matter how polite you are or how promptly you return phone calls. If you fail to perform as advertised, you are guilty of lousy service, especially if the clients' expectations are misguided.
Financial Advisor Magazine just surveyed 1400 Advisors, asking them what they consider to be the most prevalent reasons clients fire Advisors.
Here are the results:
No. 5: Making claims they can't keep: 22.6 percent
No. 4: Poor investment performance: 34.2 percent
No. 3: Failure to promptly return phone calls: 43.9 percent
No. 2: Failure to understand the client's goals and objectives: 51.1%
No. 1: Failure to communicate on a timely basis: 72 percent
Four out of five of these reasons for getting fired are self-inflicted wounds and absolutely avoidable.
And the fifth, poor investment performance, will be tolerated if the lines of communication are sufficiently open. Any Advisor who is guilty of any of these sins backed himself into a corner.
Listen until you understand. Repeat it back until you are both undeniably on the same page. Don't overpromise. Do what you say you are going to do. Do what you are supposed to do. Stay in touch. Take it on the chin when it's deserved.
Client expectations evolve over time.
You must be aware of that and bring them gently but firmly back to their original expectations. For example, clients inevitably forget why they hired you. When the market goes up, so, too, do their expectations. When clients get greedy in bull markets, it's as if they changed their objectives without consulting you.
It is your job to turn new clients into loyal clients.
Do that by consistently exceeding their expectations. Ask every new account what it is they expect of you. Ask them what you have to do to get fired. Get their expectations out on the table. Then make a decision. Are their expectations reasonable? Can you satisfy and exceed those expectations?
Their satisfaction goes directly to your bottom line.
If you like Don's advice, check out his CD "Simple Truths for Investors"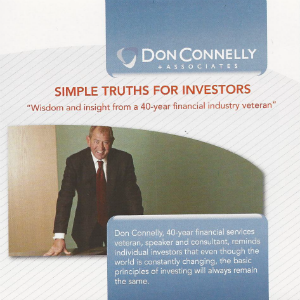 If you want to save time and money by not ordering a physical CD, get its mp3 version instead.