5 Things Financial Advisors Should Do to Make the Most of This Holiday Season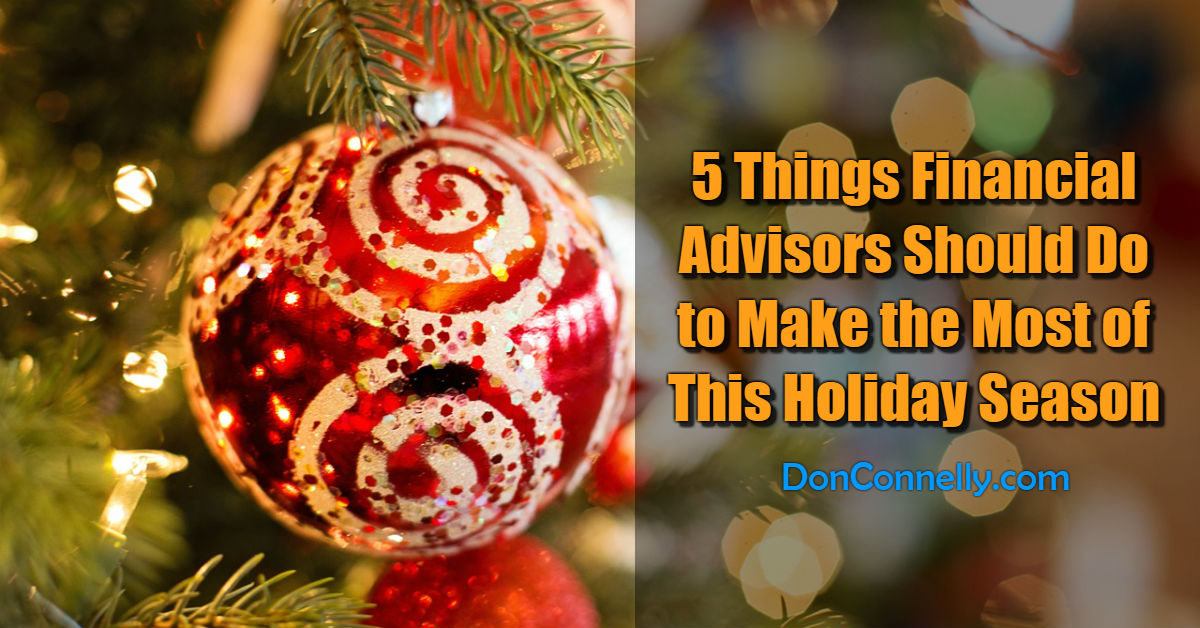 As the year draws to a close it's the ideal time to reflect, regroup and make plans for the New Year.
What went right and what went wrong? What things can you do to make sure your career is in great shape going into the next year?
Here are five ways to help you hit the ground running next year.
1. Touch base with clients over the holidays
Regular communication is paramount to maintaining a healthy relationship with clients – and touching base with them for a catch up shows them you care. A quick unscheduled call to wish them well will help reinforce your clients' confidence in you. And while you're on the phone you could ask if anything's changed at their end. This will give you a heads up on whether their plan still accurately reflects their situation and aims.
2. Check your goals are still relevant
Setting goals is integral to your success as a financial advisor, but as well as planning goals you need to deliver on them with drive and focus. The end of the year is the perfect time to revisit your goals to check they're still relevant and fit for purpose. You may decide to completely overhaul them – or feel that maybe they just need a tweak here and there.
Ask yourself: Are you truly committed to your goals? How strongly do you feel about them? Do you still believe they're there for the right reasons? Do they match your values and beliefs, and do they continue to make you feel motivated and positive you can achieve them?
How willing are you to devote your personal time to making sure your goals happen and how easily can you shrug off negativity when moving towards your goals?
By asking yourself these kinds of questions you'll find out whether you need to devote time to redrawing them before the new year kicks in.
And if you haven't already set clear goals and written them down, this is a key task that's long overdue so build in time to get it done ASAP.
3. Create a succession plan
If you haven't already done so, put aside some time over the holidays to create a succession plan. Your clients need to know what will happen to their assets in the event you aren't around anymore. Create a written, workable strategy and deliver it to clients in the new year to reassure them and give them the confidence that you are there to look after them, no matter what.
4. Assess your time-management skills
If you're a one man or woman business who feels 'there's never enough time' to take weekends off or spend an entire evening with the family, you need to rethink how you use your time. Take some time out to look at the bigger picture.
Consider delegating your more routine admin tasks to free up your time. You may have to hire someone, either full or part-time. This will not only allow you to focus on the important tasks i.e. prospecting – but will give you a better work/life balance.
Rather than scheduling work breaks around work, sit down and plan when you're going to take time off next year. By making your personal time a priority you'll benefit from looking forward to relaxing holiday time which will keep you motivated. And you'll benefit from the increased well-being of spending time with friends and family, boosting your health and focus.
5. Decide that next year is the year for self-improvement
If you are to achieve your goals, you need to be open to change and self-improvement. Examine your strong and weak points. If you procrastinate when it comes to key tasks such as prospecting, you need to find out why that is and fix the problem. Do you fear rejection? If so, perhaps it's time to sharpen up your soft skills so you can prospect with more confidence. Consider getting a mentor – or why not join Don Connelly 24/7 and kick start your new year by becoming 'brilliant at the basics'?
It's essential to relax and rejuvenate over the holiday season, but it could also pay you dividends to spend a little time considering your business strategy going forward. Also take a moment to reflect on why you entered this profession in the first place. Appreciate what you do for a living and you'll enjoy it all the more – and prospects and clients will warm to your positivity.
Here's wishing you Happy Holidays and a prosperous New Year!