Financial Advisors Who Lack These Soft Skills Often Fail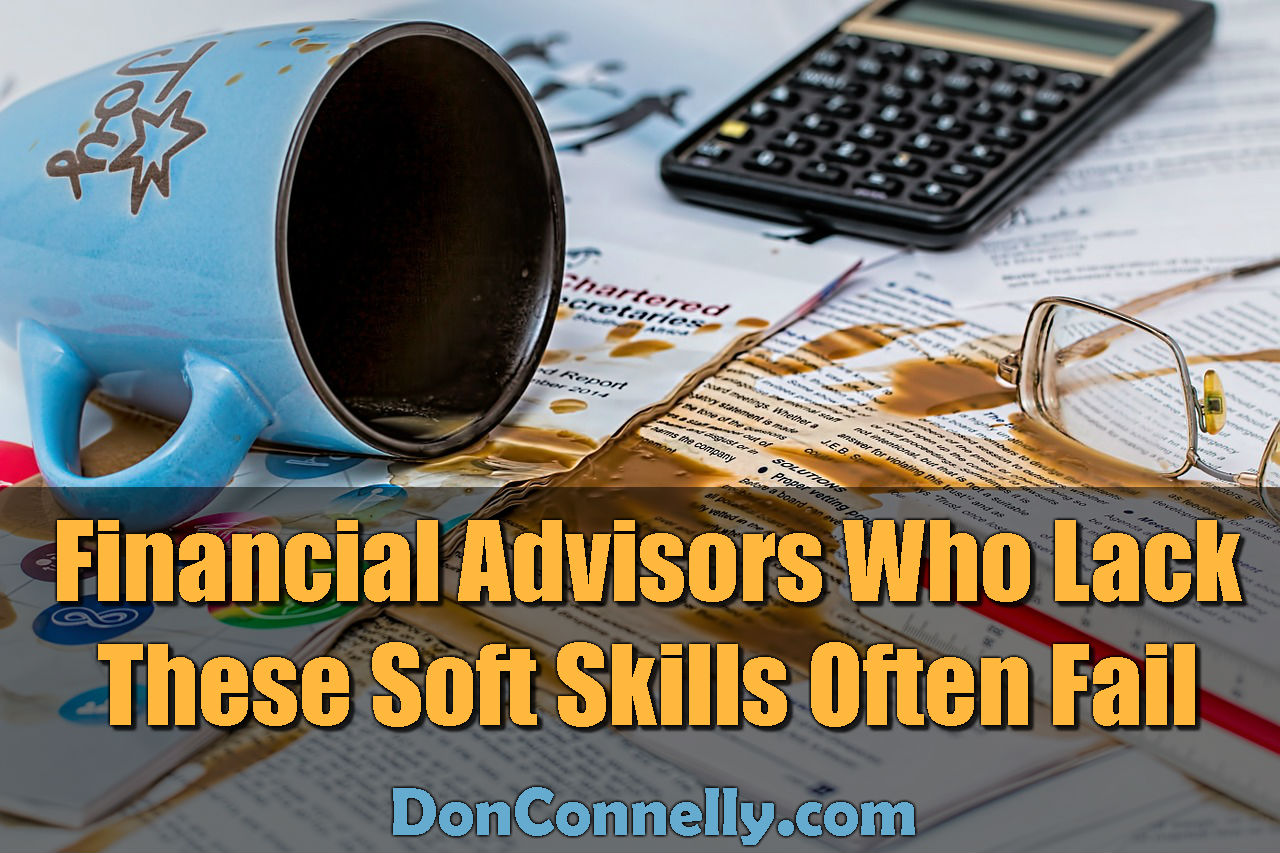 The ability to master soft skills is key to your future success as a Financial Advisor. In fact, it's easily as important as how much technical knowledge you have. However, advisors often struggle to develop the key soft skills required to build relationships with prospects and clients – and consequently their business suffers.
Perfecting your soft skills should be your number one priority. This post will help remind you to get back to the basics by focusing on five soft skills that could make or break your business.
1.   Outstanding communication skills
Focus on becoming the best conversationalist you can be. Make complex topics easy for prospects and clients to understand. Never be afraid of being simple, it's actually a sign of intelligence.
The simpler your language the more eloquent you are. Use proverbs, avoid 'hackneyed' phrases, and talk plainly. Don't use slang or long words, and use active, not passive verbs. Finally avoid hyperbole and don't be pretentious.
Use simple stories when you're talking to clients. These are the ones they will remember when they leave your office. You only need a few good sales ideas and stories to succeed – so learn some great stories; then tell them over and over again until you're pitch perfect.
Use metaphors, similes and analogies. Seek obvious answers e.g. "I bet you paid more for your last car than your first house" resonates with clients of a certain age. Show enthusiasm and passion. Be animated in your voice, facial expressions and gestures and clients will warm to you.
2.   Strong leadership skills
Not many of us are 'born leaders' but the job of a financial advisor requires that you develop leadership skills. To do this you need to reassure, become a visionary, make hard decisions and be accountable.
Reassure clients that you're up to the mark and that you are going to be at their side for their entire investment journey. Get clients to stick with the plan by sharing with them your vision about how they can and will achieve their long-term goals. Paint a picture of a happier future for your clients and make it visceral. Use color and detail so they can get up close and 'buy' into your vision of their future.
It's your job to make decisions on their behalf so be prepared to adapt and change course when necessary. Be prepared to take criticism on the chin – great leaders are always receptive to others' perceptions – it enables them to grow. Take responsibility – if something goes wrong put your hand up – then fix the problem.
3.   Making yourself irreplaceable
Care more than other advisors and give your clients an experience they won't be able to get anywhere else. That way you won't ever have to compete on price. Just make sure your service justifies the premium.
This requires you to be the most caring, compassionate, attentive advisor – with a service level that cannot be replicated. Like a Starbucks coffee, make sure you are the 'whole package' – and that you embody a rewarding experience for your clients. Be passionate and enthusiastic. Let clients see you're genuinely involved in what happens to them.
4.   Building a strong relationship
Being good at what you do is not enough. Above all else you need to be able to form a strong relationship with clients to get you through the bad times.
Be a giver, not a taker. Make it your aim to be the 'go to' person for all types of issues, not just your clients' financial affairs. Great advisors often get asked to offer their advice on their client's big purchases and they get invited to family occasions. Essentially over time they become a family friend, a trusted advisor.
Make your goal developing that type of relationship with your clients. Be there for them. Make caring the cornerstone of your business. Listen and counsel. Don't be erratic. Don't make it a mistake to trust you.
5.   Being accountable
Don't wait for clients to hold you accountable, make yourself accountable first. If something goes wrong don't procrastinate, take the hit. Everyone makes mistakes. If you hold your hand up and admit that you are not always right, you will earn your clients' respect.
Accountability also applies to your personal goals going forward.
Set goals and hit them. If you don't have goals to hit you will meander off course, so write them down, make them attainable and measurable and keep them in full view at all times. Then monitor how you're performing on a daily basis. Develop the perseverance to achieve your goals one by one – focus on what 'you' control. By taking charge of your career path you will become more optimistic and more resourceful.
Don't be a Financial Advisor with a lack of soft skills.
By developing superlative soft skills, you are making a huge investment in your future. Make it your aim to hone your people skills to perfection and you will achieve success – a success that will always elude less personable advisors.
Develop the soft skills you need to succeed!
Take two minutes to hear Don explain how he can help you become a better Advisor