How Financial Advisors Can Use LinkedIn for Prospecting – Part 1
You probably know by now that social media is an integral part of the 2015 digital marketing trends for financial advisors. What you may not know just yet is that LinkedIn has proved to be one of the most effective prospecting tools for Advisors.
Here are some interesting statistics to help you understand why LinkedIn is so important for you as a Financial Advisor:
With 111+ Million registered LinkedIn Users in the United States alone, most of many of your future clients are out there.
A survey published by Hinge Research Institute revealed that 70% of buyers listed LinkedIn as the social media platform they are most likely to turn to when gathering information on service providers.
According to Financial-Planning. com, there are about 5 million "affluent investors" with $100,000 or more in investable assets and 73% of them use LinkedIn to research investment decisions. Sixty-two percent of Financial Advisors actively prospecting on LinkedIn converted new clients from that process over the past year.
Additionally, LinkedIn is a 100% professional network.
This presents a tremendous opportunity for you as a Financial Advisor to connect, engage and build relationships with potential clients on a "strictly business" note without worrying about any distractions that come with personal type of profiles.
It also helps you get found by prospects. When you showcase your historical experience and influential connections on LinkedIn, potential clients perceive you as trustworthy even if they are only gathering information, before considering doing business with you.
Having said this, today's post is the first of a two-part series on How Financial Advisors can use LinkedIn to find prospective clients and open more accounts.
We will take a closer look at four tips for how Financial Advisors can get started on LinkedIn to grow their network of clients and prospects.
1. Create an impressive LinkedIn profile
Having an impressive profile is a prerequisite to enjoy greater success with your LinkedIn efforts. You should leverage this online real-estate to establish personal branding and credibility as a Financial Advisor. The first step is to complete your LinkedIn profile.
Here are a few profile elements that your prospects are likely to notice at first sight and use to form an initial impression of you:
Profile Photo: The absence of a profile photo invokes a feeling of distrust and lack of engagement. Use a professional-looking headshot to make a great first impression. Also, it will help you get recognized at business events and meetings.
Headline: Write a compelling headline to describe what you do. Use terms that your target prospects are likely to search for.
Summary: Use this section to show a 360-degree view of your skills and expertise. Use keywords, if possible – LinkedIn algorithms take into account the description when recommending you to other LinkedIn users who might know you or be interested in connecting with you.
Vanity URL: Claim your vanity URL – for example, www.linkedin.com/in/donconnelly/ or www.linkedin.com/in/donconnellyandassociates/ . This will make your profile search engine friendly and easily recognizable. Consider it essential from a personal branding point of view.
Website Listings and other social profiles: Add links to all relevant online properties that you own – e.g. company websites, blogs, social media profiles, etc. Use descriptive link text so that prospects and connections instantly get a clear idea what type of websites you are linking to.
Experience: List all your professional and voluntary experience in this section. Use keywords or terms that people in your industry search for. Also, cite achievements, awards, blogs, articles, and even videos that mention you. All of this will add value to your profile and help you build your credibility as a Financial Advisor.
For a comprehensive guide on creating a LinkedIn profile, I'd recommend Laura Shin's post, How To Create The Ideal LinkedIn Profile and  LinkHumans's infographic, How to build the perfect LinkedIn profile.
2. Build your network by adding "existing" connections
Once you've set up and optimized your LinkedIn profile, the next step is to start adding 1st degree connections. Begin with people that you already know like fellow alumni, interns, current or former colleagues, current or former clients, friends and family. They can grow your network by introducing you to their own circles. Also, they can write recommendations for you. Well drafted recommendations from influential people can really strengthen your profile and boost your credibility.
Adding existing connections is really simple. Below are a few ways to do it.
Go to "Connections" tab from your main navigation and click "Add Connections" – LinkedIn will give you the opportunity to import all your email contacts.
Go to "Connections" tab from your main navigation and click "Find Alumini" – use this section to find and add classmates from your school, college or university.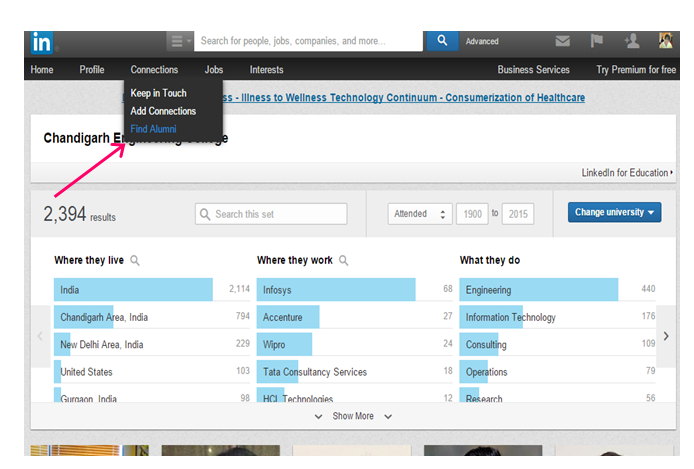 Review the "People You May Know" suggestions by LinkedIn
Use LinkedIn Search to find a person you just met at a conference or elsewhere and send them a connection request.
As a Financial Advisor, re-connecting with people you already know, not only presents an opportunity to grow your professional network and improve your profile strength, but also softly reminds your prospects, clients and family about you and your services.
For example, according to a post on Social Media Examiner blog, Bill Waterhouse landed his company a $450,000 contract almost immediately upon joining the network. He used his email database to invite a prospect with whom he had failed to set an appointment earlier. The prospect responded to his invite by asking for a quote and eventually became a client.
I'd recommend you add new connections on a regular basis rather than treat it as a one-time activity. Consistently growing your network of connections on LinkedIn makes your profile stronger and the stronger your profile, the better your visibility on LinkedIn.
TIP: Whilst the default "LinkedIn Invitation to Connect" message is fine for friends and family, always customize it when approaching strangers.  A personal note improves your chances of getting noticed and accepted as a connection. Also, it gives you an opportunity to briefly introduce yourself to your prospect. On the other hand, generic invites, especially from strangers, lack sense of engagement and can go unnoticed or even treated as spam.
3. Ask for introductions – making 2nd degree connections 1st degree
Tapping into your personal network of 1st degree connections brings in 2nd degree connections, too.  In other words, it makes it easy to prospect with "friends of friends".
Let's say you have a college friend who is your 1st degree connection on LinkedIn and he currently works at an Adult Day Care Center. A lot of his 1st degree connections are baby boomers or retired men and women who might be interested in personal savings or financial tips. Being a Personal or Retirement Financial Planner, those connections might be great potential clients for you. As you are not directly connected with them, they will appear as a 2nd degree connection on your profile.
There are two ways in which you can start prospecting with those 2nd degree connections.
Via LinkedIn Introductions – This feature allows you to ask your friend (your 1st degree connection) for an "Introduction". This is a great way to get your foot in the door as you are no longer a stranger to those 2nd degree connections, trying to make a sales pitch.
Via Email – Instead of using LinkedIn introductions, you can also use the network to create a list of prospects that are a 2nd degree connection. Later, you can reach out to them via email, mentioning your common contact's name and thus, becoming "a friend of their friend". This approach can get a bit challenging because finding email addresses of prospects can be really time consuming.
It's important to know that the warmer your relationship is with your 1st degree connections, the sooner you will reap the benefits of LinkedIn networking. Here are a few ways to keep 1st degree connections warm.
Occasionally, take the time to send direct messages to your connections who are well networked on LinkedIn. Ask for their advice on an interesting issue or offer your assistance, but make sure you are useful. Don't just waste their time.
Use the LinkedIn news feed to find opportunities to reach out. If sorted by 'Connections', your newsfeed gives you context what your connections have been up to – updates they've posted, group discussions they commented on, work anniversaries they celebrate, etc. Any and all of these can be a good conversation starter for you and your 1st degree connections.
Try and meet up with them in person over a coffee, lunch or dinner in order to strengthen the relationship. You know all too well that nothing happens without an appointment.
4. Leverage LinkedIn groups for new connections
In addition to exploring prospecting opportunities within your current and extended social circles, LinkedIn Groups enable you to connect with your target audience even if they are not your 1st or 2nd degree connection.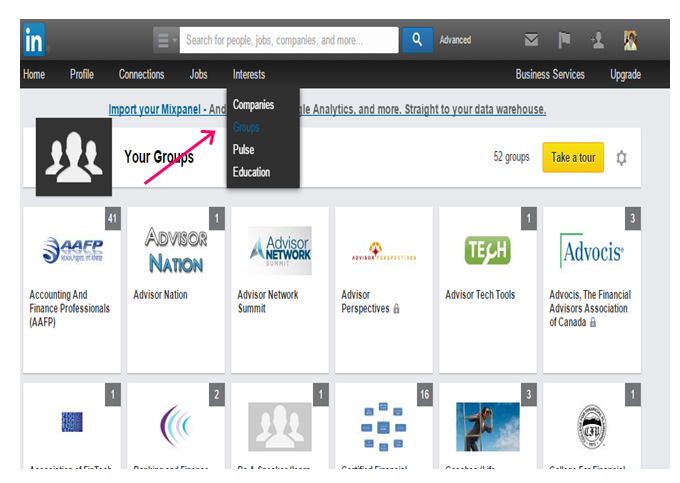 Stephanie Sammons, a Certified Financial Planner (CFP) and CEO of Wired Advisor – a digital marketing company serving Financial Advisors and firms – wrote a great post a while ago, "How to Network Using LinkedIn Groups". While I urge you to read her entire post on the Social Media Examiner blog, below are some highlights from it.
Identify and join active groups relevant to your industry, location, interests, job functions and other business aspects.
Consider joining corporate sponsored groups. They are very well moderated and present tremendous prospecting opportunities for Financial Advisors trying to open both Business to Business (B2B) and Business to Customer (B2C) accounts.
Don't just start dumping financial content. Carefully analyze the ongoing discussions to understand what people like to read or discuss. Read the community rules and make sure you follow them by all means.
Once you have a fair idea about the group, its members, and their interests, you may start participating in the following ways –

Starting new discussions by sharing content from your own blog or elsewhere on a topic that might be helpful or interesting to your prospects.
Sharing value-add comments to ongoing discussions to get noticed.
Asking and answering questions in the group so that you are seen as a helpful expert in the financial services industry.

After you've spent some time participating in the group, you may start sending personalized connection requests to group members with whom you have previously interacted.
Ideally, try to reach out when the discussion with the member is warm. Such people are more likely to accept your request while the memory of you is still fresh.
After connecting with promising prospects, make sure you set aside time every now and then to follow up with them so that you start building a relationship. If time is not enough, do this based on your connections' priority. For instance, you recently connected with a prospect over a common group discussion who is a Chief Financial Officer (CFO) of a large organization. He might be a higher priority lead versus an individual Baby Boomer prospect, as the CFO could possibly land your Advisory Firm an annual contract to provide Financial Advice to all the employees of his firm.
You are all set to get started and use LinkedIn for prospecting.
I hope these 4 tips will help you improve your presence on LinkedIn and expand your network. Stay tuned for the next month's Connelly Corner post in this series where we will share some other LinkedIn features and advanced techniques for Financial Advisors to prospect by growing your influence in the community.
If you are ready to ignite your performance, try Don Connelly 24/7.