Five Reasons Why You Should Always Ask for Feedback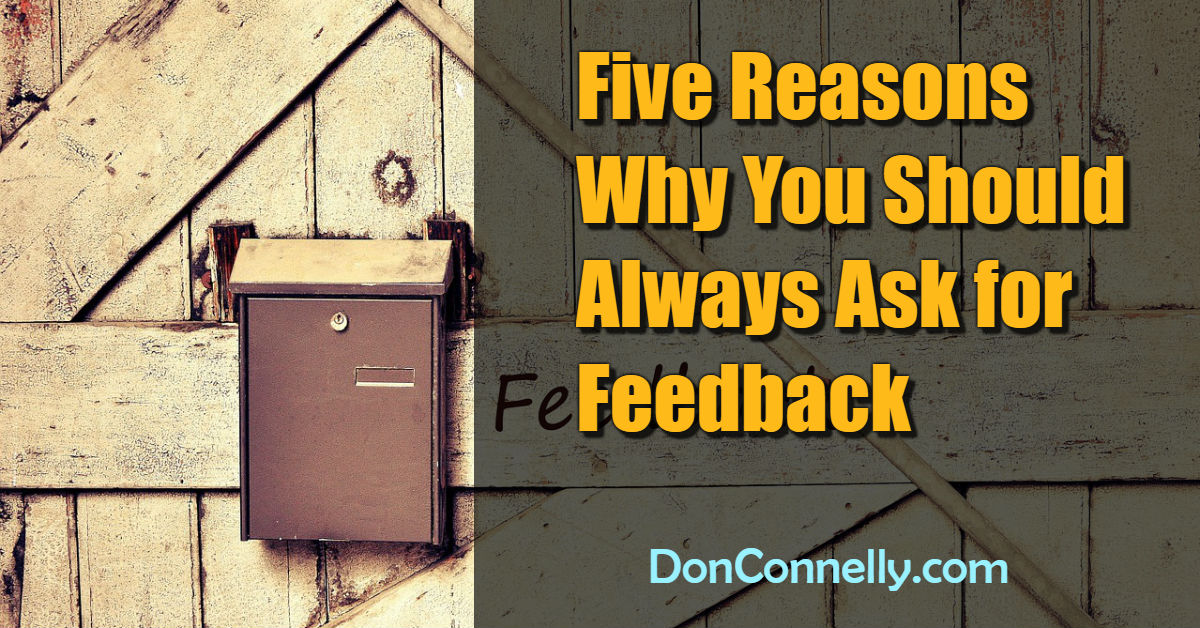 Feedback is essential if you are to successfully grow your career as a financial advisor.
By regularly asking for feedback – from prospects, clients and influencers – you will be able to identify the areas you need to change for the better.
Here are five reasons why you should seek feedback.
#1. Asking for feedback will help you improve how you communicate.
When you are talking to clients you need to ensure you are really getting your message across because what you say may not be what the other person hears. Don't let misunderstandings taint your message.
When someone decides not to act on your suggestions you can acquiesce and call it a day (in fact that's what most advisors do). Or – you can get a reality check and probe prospects to find out exactly what's bothering them – and get the conversation back on track. (That's what successful advisors do).
If it appears you're not getting the message across, back up and try again. Play it back to prospects and deal with issues head on – otherwise you won't benefit- and ultimately neither will your clients.
#2. Ask for feedback to improve your performance in seminars.
If you're giving a seminar, ask people to fill in an evaluation form at the end. This will give you the opportunity to improve and make your future seminars more productive. Ask attendees whether they were happy with the content, if they would recommend your seminar to others, and whether you communicated effectively i.e. was the seminar easy to follow?
#3. Get referrals by asking for feedback.
See your clients as your salesforce. As a financial advisor, you need a board of advisors, so set about amassing one. These can be either current clients or friends and family members – just so long as they are influential people in your community.
Ask your board members for their help as you grow your business. Use their feedback and advice – for example, do they think you should run more seminars? How do they think you should meet the people you need to meet to grow your company? Can they put you in touch with anyone who might need your advice?
Wealthier people respond to word of mouth above all else so give your contacts business cards to give out to others.
#4. Asking for feedback can keep your relationship on track.
Asking for feedback shows the client you care – it sends out the message that you want to do what's best for them – and that you are always striving to improve.
Ask your clients how they think you're performing. Is there anything else you can do to improve their experience of working with you? Once a client has decided to set up a long-term relationship with you they have put themselves on the line – so you should never rest on your laurels. Ensure you continue to give 5-star service by seeking regular feedback.
In fact, just the act of asking clients how they rate your service will play a part in making your clients feel as though they are receiving VIP treatment. And if it turns out they feel there are some things you could change, it's your opportunity to make this happen before clients become disillusioned.
#5. Feedback from a mentor can help take your career to the next level
Finance is a competitive field so if you value your career you should seek the advice of business sages, i.e. people that have 'walked the walk' rather than just 'talked the talk'. Mentors can offer you valuable feedback and give you sound advice on how to present yourself, overcome objections and improve your soft skills.
Mentors can point out and make impartial observations on your strengths and weaknesses and help you identify, understand and take action on areas that need improving. Having someone give an objective opinion on your techniques and performance could save you from making costly mistakes as well as avoid common pitfalls.
Taking the time to obtain feedback from those around you will help you achieve success in your career. Not only can it help you improve your performance – but it will also show that you are modest enough to understand that you are never the 'finished' article.
If you're ready to take your business to the next level, start your 30-day trial with Don Connelly 24/7.