What's New on Don Connelly 24/7 in October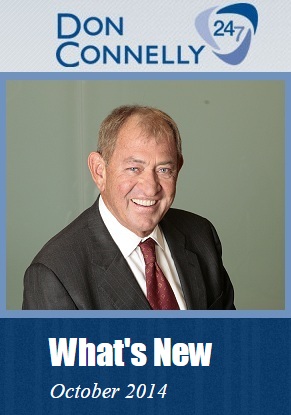 As October comes to an end, it's time for our blog series What's New on Don Connelly 24/7. We recap new video and audio podcasts, Weekly Focus issues, the Monthly Newsletter, and upcoming webinars. Read on!
What's new on Don Connelly 24/7 in October
Remember, most links provided in this blog post will redirect you to content which is accessible only to Professional and PLATINUM members of Don Connelly 24/7. Non-members can still see what topics Don discusses, what questions he answers, and what issues he is helping solve through the learning center.
In order to see all the details and podcasts, please log in to your account. If you are not a member yet, register here at Professional or PLATINUM level for premium content access.
New Podcasts
Don's Monthly Newsletter for October – Are Full-Service Financial Advisors Losing Traction?
The world ended in 1974. Fidelity became the first load mutual fund company to sell funds directly to retail clients by means of a toll-free number. It also became the first mutual fund company to offer twenty-four hour pricing and free check writing. It also had a young stud named Peter Lynch about to launch a thirteen-year run that is the stuff of legends. In 1978, Fidelity upped the ante. It opened its discount brokerage arm.
There was no way we could compete. But we did.
In 1975, a new threat emerged on the horizon: a mutual fund company that wasn't in business to make money for its management firm. It would be operated strictly for the benefit of the shareholders. Net profits would go back to the shareholders in the form of lower costs. Commissions were eliminated. What sounded at first like a crazy idea doomed to failure became a tsunami of low-cost index funds.
There was no way full-service Advisors could compete. But we did.
Now we have Robo-Advisors who are going to show young investors how to avoid the mistakes made by the previous generation, all the while lowering fees with minimal human intervention. In ten years, say the experts, everyone will be using Robo-Advisors.
There is no way full-service Advisors can compete, but we will.
Read or listen to the monthly newsletter, available in written as well as audio format.
The AskDON episode which goes with this Monthly Newsletter comes from one of Don's friends, asking to provide him with what he called an 'Ebola rap.'
"I am getting peppered with questions about the impact of Ebola and I need some ammo."
Find Don's answer in the second part of both the written and the audio version of the Monthly Newsletter.
Don's Weekly Focus
Each Wednesday Don sends our premium members a Weekly Focus email containing:
one insight for the week
one of Don's brief but dynamic video/audio podcasts
one easily implemented Action Plan
During the month of October, we sent out and posted 5 Weekly Focus issues, as follows:
Because Professional members and Weekly Focus subscribers can view only the last 4 Weekly Focus issues, the 5th issue this month, from October 1, can be viewed only by PLATINUM members who have access to the complete Weekly Focus library.
Upcoming Webinar – Center Stage with Don Connelly & Richard Capalbo
What Elite Advisors Do that Average Advisors Don't Do
Richard is one of those rare people who not only talks the talk but he walks the walk. Among his many talents, he is a consummate and spell-binding storyteller. Richard doesn't offer information. He offers wisdom.
Richard has agreed to talk to us about some of the critical things that Elite Advisors do that Average Advisors Don't Do:
how to open significant accounts;
how to build a successful client model;
the need for a rigorous client acquisition and retention plan;
how to reject clients who do not fit it;
How to analyze our business in a truly unique way.
If you're not a member but want updates for upcoming webinars, subscribe to Don's Weekly Tip!
---
Get Don's Weekly Tip and new posts – delivered every Tuesday