6 Tech Essentials for Financial Advisors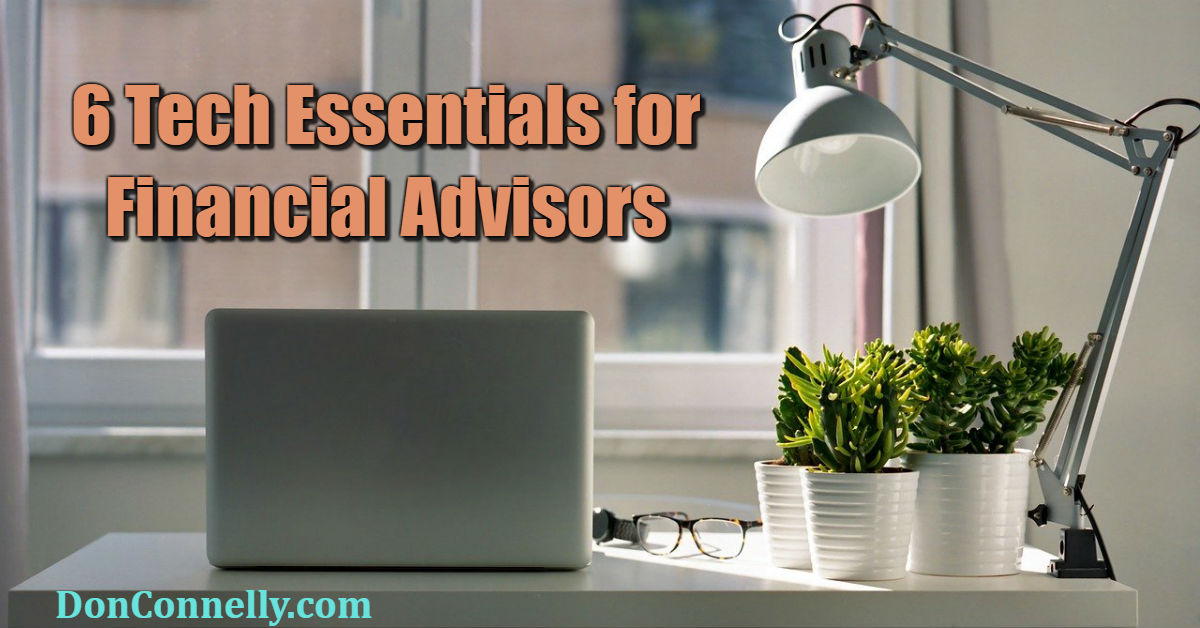 Unquestionably, the advisory industry has been experiencing a significant transformation. Through advances in technology and the democratization of investing, financial advice is quickly becoming commoditized, much to the detriment of Financial Advisors who continue to languish in traditional business models. Today, adopting the right technology is becoming table stakes for advisors who want to maintain the trust of their clients and stand out in an increasingly competitive marketplace.
Investors today are seeking more expeditious, frequent, and personalized communications from their advisors. They are also looking for more transparency behind the scenes – how advice is determined, how financial plans are developed, and how investment reporting gets done. It's no longer enough just to create a positive client experience, emphasizing what you can do for your client. Clients want to be involved in the process, to understand and participate in decisions. Today's clients want to know what you can do as partners in their financial future, working interdependently.
Until recently, the financial advisory industry has lagged other sectors in the adoption of technology. However, out of necessity, an increasing number of financial advisors are looking to technology to up their game. The right technology enables advisors to scale their activities while increasing their efficiency in critical functions such as client engagement, marketing communications, portfolio management, compliance, and document management.
Here's how leading Financial Advisors are utilizing technology in the modern advice era.
#1. Embracing digital channels for continuous communication
One positive outcome of COVID-19 is the widespread acceptance of digital tools to communicate with clients. Both advisors and clients are now more accustomed to utilizing virtual technology as a primary touchpoint in their advisory relationship. Financial Advisors who more broadly use digital, video, and audio channels are able to reach and engage with their target markets more efficiently. Video conferencing is now a mainstay for most advisors. However, to stand out, tech-savvy advisors are turning to other digital channels such as YouTube to get their message out.
#2. Capitalizing on digital intelligence to improve workflow and sales
In a digitally wired world, clients expect more personalization in their interactions with financial advisors. Data is the backbone of a digital intelligence infrastructure that enables advisors to view their clients and target market as individuals rather than broad segments. Real-time data that can be mined from your CRM, website, and social media, can create a detailed record of all that is knowable about your clients and prospects, including who they are, their interests, and how they communicate. Such personalized insights enable advisors to target their clients and prospects with more relevant information to create more timely and effective engagements.
Popular CRM systems such as Redtail, Salesforce, Wealthbox, and Junxure, include data analytics capabilities with AI-driven insights to provide advisors with actionable plans for client management and new client acquisition. The same intelligence can be utilized to develop measurable sales process flows that can drive more qualified leads into the funnel.
#3. Blogging for influence
The most effective ways to gain a differentiation edge is with content. Content is the reason why people go on the internet – to learn something new, gain new insights, find information they can use. Advisors who can provide that kind of content offer a more compelling reason for clients to start a relationship with them.
Today, an increasing number of Financial Advisors point to blogging as their most important inbound marketing initiative. Many have experienced greater engagement with their prospects and clients and higher visibility among their target market.
#4. Personalizing emails for improved client experience and engagement
The days of "blast" emails are over because people won't open them. However, by building a list of prospects and clients who "opt-in" to your emails, you can customize their engagement and provide content they want to receive. With email marketing tools like MailChimp, Constant Contact and Vertical Response, you can respond to your visitors' type and level of engagement to customize their experience, making them more likely to continue to open your emails. When their level of engagement reaches a certain point, they are more likely to contact you directly or be more receptive to a call.
#5. Automating engagement to gain insights on your audiences
Finally, it's important to be able to track who's engaging with your content. By marrying marketing automation software to your email marketing system, you can gain insights about your website and social media visitors – who they are and what they are doing when they're there. You can then create automated workflows to start cultivating a relationship by directing relevant content to them. Once the level of engagement reaches a certain point, it's time to reach out with a call.
#6. Utilizing social media management tools to improve efficiency and time management
According to a study conducted by LinkedIn/Cogent Research, 90% of high-net-worth investors are on social media today. The same survey showed that more than half of affluent investors indicated they would interact with a financial advisor through social media. Yet, less than 5% have actually been engaged by an advisor. Whatever you might think of social media, it's here to stay, and without a social media presence, you may be invisible to a significant segment of your market.
However, building a social media presence can be time-consuming, which is why leading social advisors utilize social media management tools. Popular options such as Hootsuite and Buffer allow you to manage your social media accounts from one dashboard. Posts can be scheduled throughout the day or week so you can remain "active" on social media while busy with other things. These tools also allow you to analyze your posts' performance, so you see which social media channels and topics are having the most significant impact.
With all these changes that the digitalization of our world and industry brings in, don't forget that your success still depends mostly on your soft skills. I you need help developing the right soft skills, get the
4-CD set, How to Excel in the Securities Industry
, to learn what Elite Advisors do that average Advisors don't do.
Building a practice around a technology infrastructure does take time and resources, but the future growth – or even survival – of your practice could be at stake. Fortunately, the tools, technology, and expertise are readily available to you. The best approach for advisors with limited resources is to design the strategy and then implement the components incrementally, over time.
If you're ready to ignite your performance and take your business to the next level, give Don Connelly 24/7 a try!