What Elite Advisors Do That Average Advisors Don't Do
Center Stage with Don Connelly & Richard Capalbo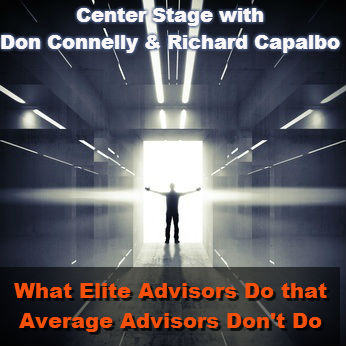 I am happy to report that our webinars keep growing in size and popularity. On November 5, 2014, we had several hundred Advisors join in to listen to words of wisdom from Richard Capalbo on the topic "What Elite Advisors Do that Average Advisors Don't Do". Richard was so scintillating that the questions poured in at the end.
Click here to get the 4-CD set to help you excel in the Securities Industry and learn what Elite Advisors do that average Advisors don't do.
Richard told the participants that he intended to focus on three main topics:
How to analyze your business in a truly unique way
How to build a successful client service model
Why you need a rigorous client acquisition and retention plan
Richard mentioned six ways to open substantial accounts and went into detail about two of them.
He told us his favorite prospecting methods. He focused everyone's attention on ways not just to attract clients, but proven ways to retain key clients. He suggested ways for the participants to ensure their practices remain profitable for years to come.
He always wraps his words of wisdom around great stories. His storytelling ability and his humor make Richard truly unique in our industry.
I have known Richard for many, many years.
I knew Richard when he was a senior sales and marketing executive with Drexel, Burnham, Lambert, at the time the fifth largest investment bank in the United States.
I watched with interest his career at Merrill Lynch.
I knew Richard as the Chairman and CEO of Bateman Eichler Hill Richards, a prestigious brokerage firm headquartered in San Francisco.
Richard is unusual in that he spent his formative years as a successful Advisor, prior to becoming a Chairman and a CEO. Not that many senior executives have sat at the kitchen table or in an office and asked someone to trust them enough to hand over their life savings.
Richard truly gets the Advisor's business.
I am deeply respectful of Richard's understanding of the Financial Advisor's role. And that's why I was so excited to have him join us.
I got to know Richard quite well when he invited me to speak at both Chapman University and Pepperdine University. He was conducting high level boot camps for Merrill Lynch Advisors who wanted to go to the next level. He had the right attendees and the right speakers and the meetings were the most popular and well-attended meetings in the industry.
Richard's presentation to the participants was meant to help them grow your businesses by thinking deeply about the way they do things.
Richard's appearance was also a bit self-serving. Richard and I have traveled in the same universe for years. As much as we've crossed paths, we've never worked together. That is about to change.
We have decided to throw in together for a 2015 nationwide speaking tour (and 2016 perhaps. Who knows? We'll see how it goes.)
We call it the Legacy Tour 2015 – learn more about it at: www.AdvisorsExcelling.com
Richard and I blend well. I am primarily about people skills. Richard has a great command of the role soft skills play in an Advisor's success, but he also has a career's worth of knowledge about the business side of our business.
Together we have ninety years of wisdom and experience between us. It is our goal to share that wisdom with Advisors. The webinar was the first step.
I hope you got to attend, and, if not, enjoy the webinar replay – just click the play button below!
Get Don Connelly & Richard Capalbo's 4-CD Set, How to Excel in the Securities Industry
A 4 1/2 hour full practice management library, showing what Elite Advisors do that average Advisors don't do