How to Become a Better Listener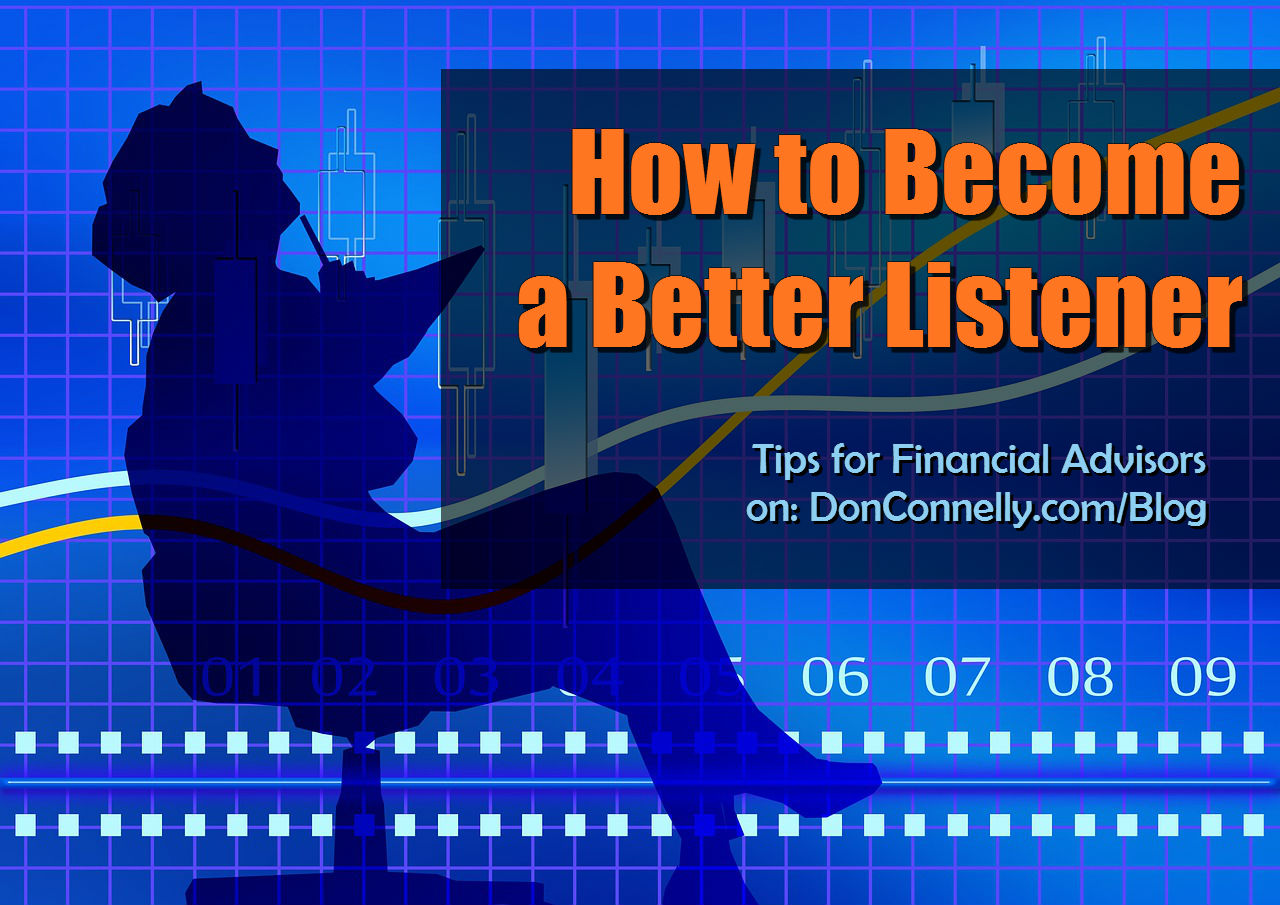 As Calvin Coolidge once said "No one ever listened themselves out of a job" so why do so many advisors find it difficult to stop talking and listen to their clients?
In order to become a great advisor, you need to be a good listener. It's the only way you'll get to understand your clients' and prospects' goals. It's the only way you'll be able to overcome their objections. Plus, the more people are given the opportunity to talk the more they will feel that you're interested in them. And they will like you for it.
Listening will help you start a client relationship and keep your existing relationships on a firm footing.
Don't interrupt
Properly listening to your clients means not interrupting them while they are explaining something and opening up to you. Never butt in or – worse – finish up their sentences even when it seems the right thing to do to keep things moving on. This will only indicate to clients that you do not respect them and your relationship won't get off to a good start.
Make eye contact when listening
Eye contact is important when making a first impression and for building credibility. It will convey your trustworthiness and you can use it to accent points in the conversation. Look at people and pay attention when clients are talking – if you must look away only do so when you are talking. The eyes are the 'mirrors of the soul' and they will tell people if you're really interested in what they're saying or couldn't care less.
Establishing eye contact also means you're giving your clients feedback in that you're actively interested in what they are saying. And this gives them all the more reason to like you and wish to do business with you.
Put your ego away
Many advisors are very competitive people (so it's no surprise we use so many sports analogies when discussing tactics and techniques). But if you want to get clients to like and trust you it's essential to leave your ego aside.
If you want to achieve success you need to be humble, open-minded and let your clients take the initiative.
It can be tough resisting the temptation of showing people how much you know and how smart you are, especially when clients don't possess your knowledge or experience. But your primary responsibility is to find out how you are going to solve your clients' problems, and the only way to do this is to listen to them. Only then can you come up with a workable solution.
Don't get distracted
Don't fall into this trap. Don't fail to hear your clients and prospects because you're too busy thinking about what you're going to say next. When you are talking with your clients they need to feel they are the most important people in the room.
Show you care
Prospects don't care how much you know until they know how much you care. Ask open-ended questions to get the client to give you their opinions and feelings, and to get to the bottom of their goals. Clients aren't always fully aware of their financial goals so make a point of steering them with good questions. Listen and be patient until you have full command of the facts.
Then it's your turn. Having listened to them you can now align yourself with your clients' needs and motivations. You can give them a great reason to invest in you. And don't stop listening to your clients. Over time their goals may change so make sure you're there and listening in.
To hone your soft skills, join Don Connelly 24/7