Keys to Building Life-Long Loyalty with Clients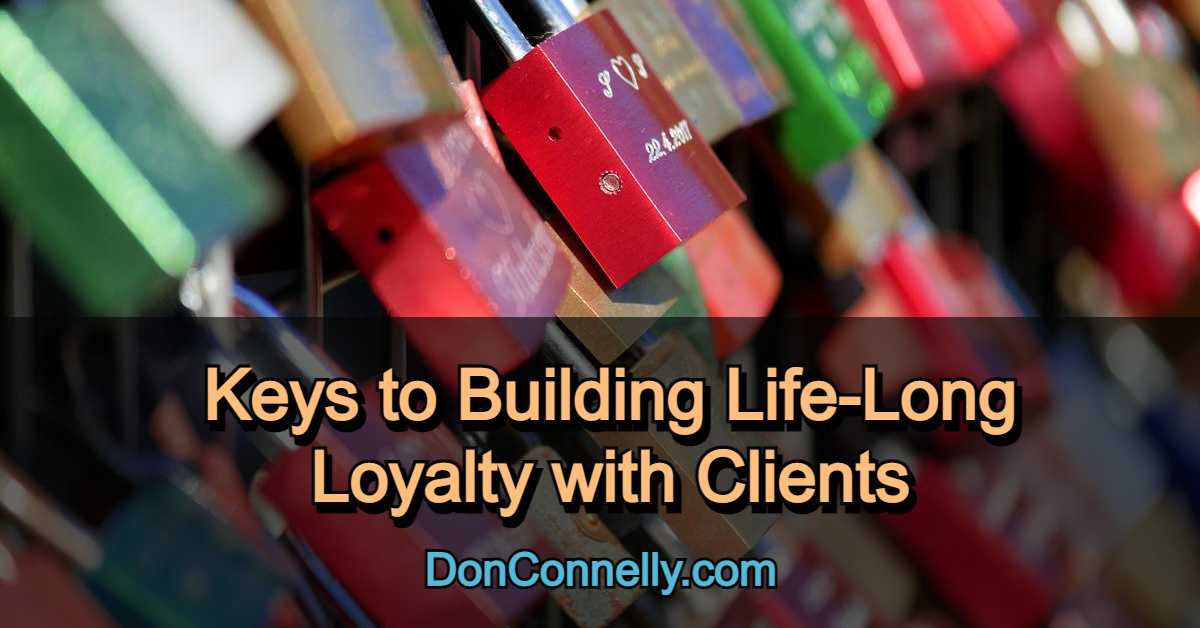 Successful financial advisors know that client retention is vital for sustaining and growing their business. Replacing a client who leaves with a new client is expensive and hard work, costing five to 25 times more than retaining an existing one. Success at retaining clients enables advisors to focus on delivering value to them instead of having to pursue new clients.
However, advisors who shoot for a high client retention rate, as crucial as that may be, might be falling short of the mark. Building client loyalty is much more critical. Is that a difference without a distinction? What does it mean when you have a client's loyalty?
Many clients stick around for various reasons:
Inertia—they don't have the time or energy to find a new advisor.
Overall, they think you do a decent job at servicing their account.
You're better than the last advisor they had.
They appreciate the client experience you provide.
They're comfortable with you.
However, many clients are just one bad experience or timely encounter with another advisor away from jumping ship. In the fiercely competitive financial services arena, excellence has become a minimum standard for clients who know they have many choices. Providing superior customer services, exceptional client experiences, or communications tailored to client needs are now just table stakes for advisors hoping to compete for top clients. It's what they expect. If you fall short in those areas, you'll be hard-pressed to attract top clients, let alone retain them.
Why loyalty is essential for long-term growth
But, when you have your clients' loyalty and work diligently to keep it, you essentially become bulletproof. Client loyalty translates to more referrals, access to a more significant portion of their assets, bonding with their entire family—all things that increase the lifetime value of your clients, virtually guaranteeing increasing profitability down the road.
Loyal clients don't bend to the constant overtures from your competitors. They're more than willing to hang in there when the market turns against them. They don't hesitate to introduce you to their family, friends, and colleagues. They have complete confidence in you. In essence, you become part of their inner circle, which is the epitome of a trusted relationship.
Loyalty-building essentials
Suppose you're doing all the essential things we've often talked about to create satisfied clients, such as exceeding their expectations, providing frequent communications, constantly articulating your value, and demonstrating you care. In that case, you stand a better chance of retaining them, which is critical for your success. You're also not far off from winning their loyalty if you make the following adjustments to your practice:
#1. Work with clients with whom you share the same values
It's one thing to be able to connect with your clients and build rapport, which is a cornerstone for building trust. But when you share the same values as your clients, it deepens the relationships. Think of the people in your life with whom you share values about life, family, money, and business. You're probably closer to those people than others who don't share your values.
The most effective way to find clients with shared values is by narrowing your focus and identifying a niche market that tends to share your values. It could be a niche based on affiliation, your expertise, or past career experience. By casting a more targeted net, you can gain efficiencies by focusing on prospects who more closely match your idea of an ideal client.
#2. Serve your clients' best interests
Clients' greatest fear is that their best interests aren't being served. Of course, you try to serve your clients' best interests—that's your job. But do your clients know and appreciate that? Do they get a clear sense of that in every conversation they have with you? How often do you talk with them about their best interests?
Clients want to know that you fully understand their life goals—what's important to them and why? Those are the best interests you're serving. So, any chance you get, whether giving advice, presenting a new investment idea, or just in your regular "check-in" call, tie everything back to their best interests. It keeps your clients focused on the bigger picture, the purpose of your relationship, and the fact that you are working consistently to provide personalized service.
#3. Deeply connect with your clients
Compared to other advisors, you may offer the best customer experience and personalized communications around. But those advantages may only be fleeting as competitors rise up with better alternatives. The best advisors offer something most other advisors can't match—a real and deep connection with their clients. For many advisors, it's about the process. But for most clients, it's personal. Loyalty starts with shared values and knowing the other person has your back (best interests). But it expresses itself through the personal connections we have with clients.
Watch this 3-minute video to learn how our training program 'Become Brilliant at the Basics: What They Don't Teach You in Training' can help you develop and hone all the skills you need to develop life-long loyalty with clients.

See program details and enroll today!
Available as a self-paced program (always open) or as a 12-week coaching program (open only a couple of times per year), this training will change the way you view your practice. Gain an enormous advantage over your competition – select your format and enroll today!