The 7 Essential Traits of Successful Financial Advisors
Center Stage with Don Connelly & David Hubbard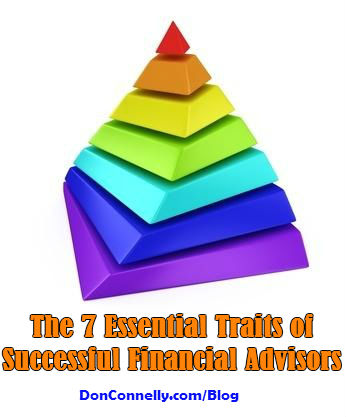 On our February 24, 2015 webinar, our special guest was Dave Hubbard, President and owner of Exemplar Financial Network. Over the past thirty years, Dave has built a thriving firm of more than one hundred Advisors. But Dave is far more than a successful Advisor and business owner. He is also an acclaimed coach who has helped hundreds of Financial Advisors fulfill their potential.
The title of this particular webinar was 'The Seven Essential Traits of Successful Advisors.' Dave enumerated and elaborated upon the most common shared qualities among the successful Advisors he knows.
In his opening comments, Dave observed that success means different things to different Advisors.
Some want increased GDC, obviously, but not all Advisors have GDC as a goal. Some define success by the amount of time they can dedicate to their families, not consumed by the business. Others define success as attracting only people they like and admire. Their goal is to build a business devoid of confrontational clients. Because success is such a personal vision, Dave's approach is to coach each Advisor in a specific way. Proper coaching, Dave maintains, is not a one-size-fits-all endeavor.
If you don't love what you are doing, you won't work hard enough to improve. Successful Advisors can't wait to get to the office in the morning. They have an abiding love for what they do.
The second trait was a clear vision of success.
Dave pointed out that, in his experience, all successful Advisors have a very clear definition of success. They always know where they are and they always know where they are going.
Thirdly, the successful Advisors Dave knows have an abundance of self-discipline.
Setbacks are viewed as temporary, not fatal. They keep at the task at hand until that task is completed. They know that success is a process, not an event.
The fourth trait we discussed was effective communication.
Simply put, people don't buy what they don't understand. No matter how appropriate the Advisor's plan, if people don't get it, they are going to be hesitant to act. The burden is on the Advisor to put his or her recommendations in a language the client will understand.
See five ways how storytelling can help you communicate better with your prospective and current clients –
read more
.
The number five skill was unexpected, to say the least.
Dave has found that successful Advisors know how to build the right team. The team members must get along with each other and the clients must get along with the team members. Hiring the wrong person can set back the Advisor's efforts for years. Because hiring the right person is so critical, Dave spends a lot of time addressing this subject with the Advisors he coaches.
Number six was a dedication to superior service.
Service, good or bad, is what separates us from the competition and cements our reputation. If you want to eliminate your competition, make every visit to your office a five-star experience.
The last shared trait discussed was personal accountability.
Successful Advisors don't finger point. They take credit when things go well and they don't blame others when things don't go well. When a client has a problem, a successful Advisor owns that problem until it is resolved.
Dave closed the webinar with a special, exciting offer to all attendees.
He offered a free analysis in four crucial areas:
Building a business foundation,
client acquisition,
taking care of clients, and
managing the business.
Each attendee is required to spend approximately thirty minutes online providing the information necessary to conduct the evaluation. Upon completion, the evaluation will be sent to the Advisor.
Dave then went above and beyond the call of duty by offering a free ($1500 value) personal analysis, via telephone, to the first five Advisors who complete the questionnaire.
As expected, the feedback was great, with several Advisors urging us to bring Dave back for another webinar.
Thanks, Dave, for a great job!
If you missed the live event, get the webinar replay.
PLATINUM members of the Don Connelly24/7 learning center can
access the replay for free in their member area.