The Alzheimer's Tsunami & Preparing for the Worst
Understanding the Signs, and YOUR legal & Ethical Liability
We heard you loud and clear! On February 18, 2014, Don Connelly 24/7 held a second webinar discussing a Financial Advisor's call to action upon a client's diagnosis of Alzheimer's.
Is the Advisor obligated to act? If so, how?
What are the financial demands of treatment?
How does the Advisor react to the scrutiny of family members?
By the time the client is diagnosed, is it too late for him to make financial decisions?
Should or must the Advisor call Compliance?
Buy the webinar replay to learn the answers to these questions and more: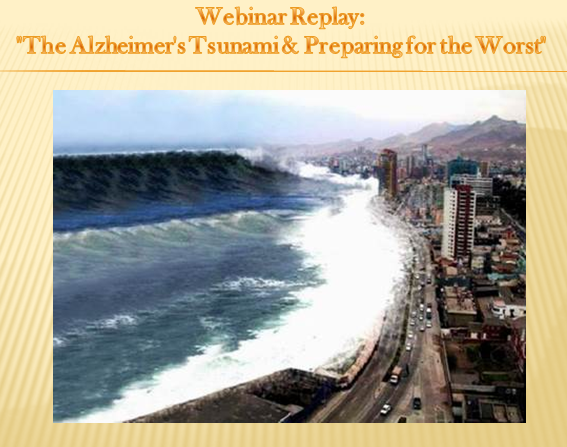 BUY NOW
Webinar replay is available for free to Don Connelly 24/7 Platinum Members –
click here to access it after you log in.
Once again, our guest speaker was Jack Broyles, thirty year Financial Services industry veteran and Chairman Emeritus of the Alzheimer's Association – Greater Dallas Chapter.
In his presentation, Jack likened Alzheimer's to a tsunami which consumes everything in its path. Every 59 seconds, someone in America is diagnosed with Alzheimer's and the disease is both progressive and fatal. No cure is presently available. The disease often drags on for years and expenses easily reach $75,000 per year.
Jack is right when he says that an individual does not get Alzheimer's. A family does. The same can be said for Parkinson's and all the other 'long goodbye' diseases. Alzheimer's and other dementias cost Americans more annually than any other condition, even more than heart disease and cancer.
Jack next covered the top ten warning signs an Advisor is likely to observe when a client is beginning to experience diminished capacity.
From signs as dire as mood swings to signs as seemingly benign as misplacing an item, clients will subtly broadcast that something may be wrong.
Jack spent a lot of time on what an Advisor must do when a client is definitely diagnosed with Alzheimer's. From gathering all financial and legal documents to paying bills and planning long-term budgets, the Advisor will be and must be involved intimately with the family.
Jack also detailed specifically which coverages apply where and what assistance programs are available.
Jack told us that he has been very busy with client seminars. He observed that it is quite appropriate to suggest to clients that they bring along their friends and neighbors, as every family in the world seems to know someone with this dreadful disease. The response had been phenomenal.
Advisors who host these meetings are getting requests to spread the word in the form of referrals. Attendees typically thank Jack for what he is doing and then tell their Advisors which of their friends the Advisors should call. This is the result of Jack being adamant that once a client is diagnosed with Alzheimer's, it is too late to make financial decisions. Forewarned is indeed forearmed.
If you want us to bring Jack back, let us know. If you wish to speak to Jack about an Advisor meeting and/or a client seminar, give us a call.
It wasn't too many years ago that we were wondering if we had an obligation to discuss long term care with our clients. The answer was a resounding yes. Well, here we are again. Alzheimer's is a subject that you should immediately broach with your clients. Do not wait until it is too late.