The Best Newsletters for Financial Advisors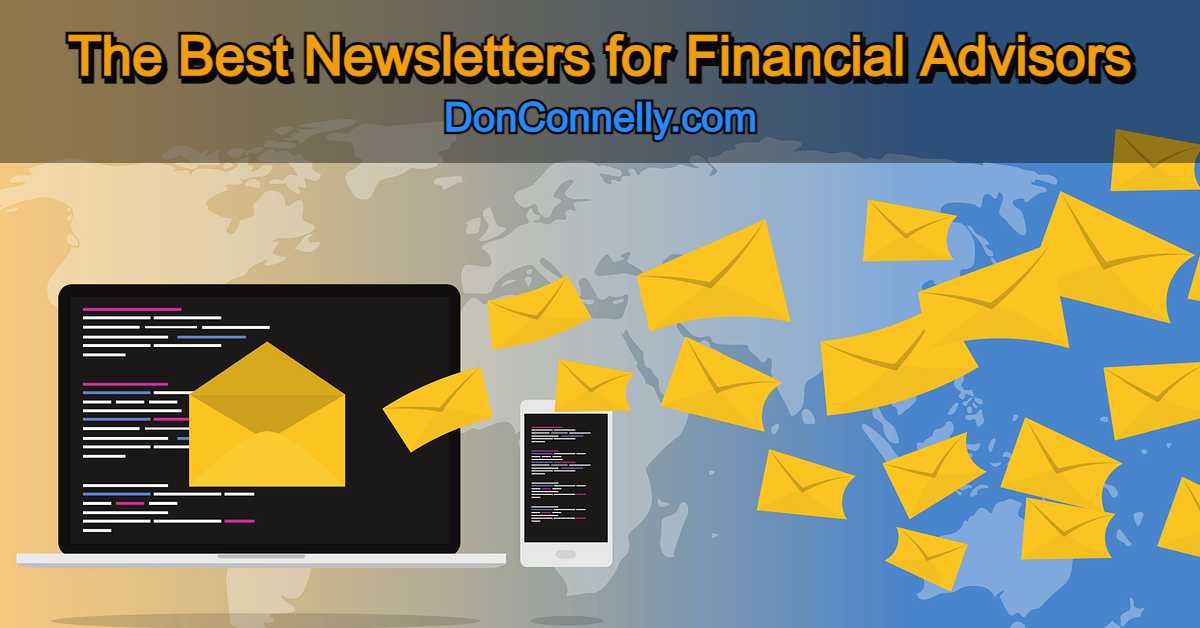 The list of traits and characteristics financial advisors must have or develop to be successful is long. We've discussed many here, including excellent communication skills, outstanding work ethic, uncommon optimism, persistence, and resilience, a hunger for self-improvement, and a passion for helping people achieve their goals, to name a few. While all are essential, advisors with ambitions of becoming tops in their field must also have a zest for learning and staying abreast of the news, trends, and developments that impact their business.
I've always thought one of the best aspects of the financial advisory business is that it is constantly changing. Advisors who can stay on top of constantly changing regulations, evolving market conditions, industry trends, and new products and investments are best positioned to seize opportunities and demonstrate a competitive edge. But more importantly, they can better meet client expectations by being knowledgeable and well-informed to confidently address their questions and concerns.
Next to continuing education, financial advisor newsletters are the best source of information on anything and everything that is going on in the industry. Fortunately, advisors have access to some top-tier newsletters, offering high-quality content on a wide range of topics written by industry professionals and experts. These are some of the more popular choices:
#1. Advisor Perspectives
Advisor Perspectives is a treasure trove of articles, white papers, podcasts, and webinars covering all aspects of the advisory business, including financial planning and market trends, industry developments, best practices, investment strategies, and market commentary. The newsletter features articles and interviews with influential figures in the financial industry, including prominent economists, portfolio managers, financial planners, and industry experts.
I particularly like the abundance of attention to soft skill development for communicating with clients, such as a recent article on "Decoding the Four Types of Handshakes."
Advisor Perspectives is free with registration and includes daily updates.
#2. InvestmentNews
InvestmentNews is another highly regarded newsletter covering the latest news, trends, and developments in the financial advisory industry. In addition to the excellent market and investment insights analysis and commentary, there is a heavy emphasis on practice management tips, compliance, and regulatory updates.
InvestmentNews is free with online registration, after which you'll receive daily newsletter updates by email.
#3. Kitces Report
The Kitces Report is authored by Michael Kitces, a prominent financial planner and commentator in the financial planning industry. The newsletter covers a wide range of financial planning-related topics with deep dives into advanced planning strategies, investment analysis, practice management, technology, career growth, behavioral finance, and client psychology. There are few sources better for keeping current with regulatory and industry trends.
The Kitces Report is a paid subscription that delivers weekly insights to your email. However, Kitces "Nerd's Eye View" blog is free to access and contains a mountain of information on the same topics.
#4. ThinkAdvisor
ThinkAdvisor is a leading digital publisher and resource, providing advisors with everything they need to stay on top of their game in wealth management, retirement planning, risk management, practice management, technology, and investment strategies.
ThinkAdvisor is free with online registration and includes a daily summary of "most read" articles.
#5. Morningstar
Morningstar is an industry-leading investment research and financial services firm providing analysis, insights, and news on investment and practice management. Morningstar is the standard-bearer for market analysis, focusing on fund and stock research and recommendations with its highly coveted star rating service.
Its content on retirement planning is particularly valuable, covering critical topics such as income planning, Social Security tips and strategies, and tax-efficient withdrawal strategies.
Morningstar is free to access online; however, some information and tools are walled off for paid subscriptions.
#6. Don Connelly's Weekly Focus
While you can find several advisor coaching sites focusing on sales training, few cover the scope of Don Connelly's Weekly Focus. With a financial services career spanning more than 50 years, Don Connelly has been an aspiring partner, trainer, advocate, and mentor to thousands of financial professionals around the world. All services, training, and programs offered through Don Connelly & Associates are designed to be compelling, easily implemented, and results-driven.
Don Connelly offers several paid membership tiers for accessing his highly acclaimed audio and video podcasts, webinar replays, monthly newsletters, and more. The Weekly Focus membership tier is an excellent value, offering weekly tips and strategies for working on your communication and presentation skills, improving client engagement and relationship building, practice management, as well as your motivation and mindset.
Other highly regarded advisor newsletters worthy of your consideration:
If you are ready to ignite your performance and take your business to the next level, watch this 3-minute video to learn how Don Connelly 24/7 can help you.
We recommend the PLATINUM membership for its best value for money. See membership comparison here.