Top 5 Reasons Advisors Fail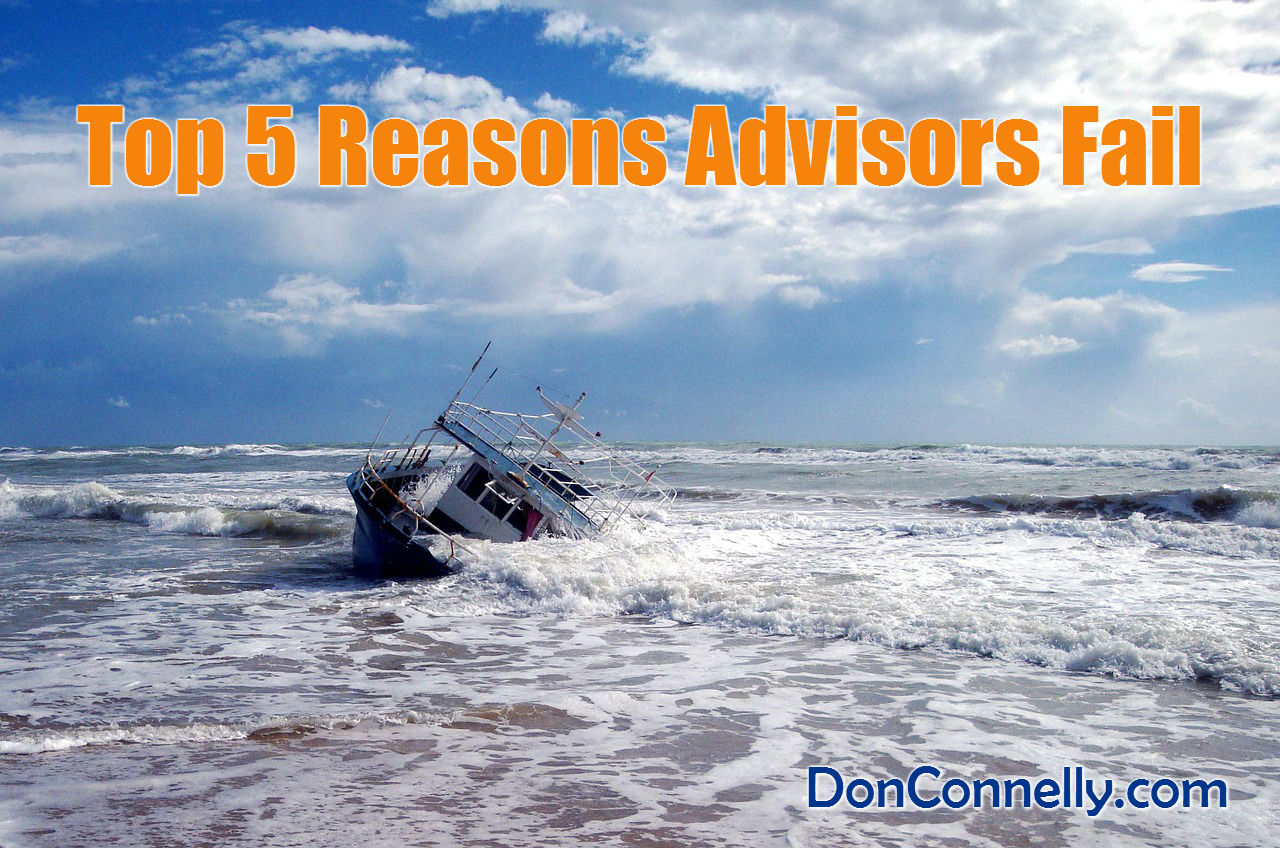 It may come as a surprise to learn that financial advisors don't generally fail because of the numbers. They do so because of poor 'soft' skills. Being unable to manage a business competently or provide top notch customer service are more likely to get you fired than an inability to get returns on investment.
If you want to succeed as a financial advisor you need to stand out in a highly commoditized industry – which means not being guilty of the following:
#1 – Not seeing enough people
This is one of the major reasons why Advisors fail. . In a perfect world you would achieve success with every call you make and every appointment you set, and you would get referrals without effort. In the real world however you need to accept that most of your prospecting activities will end in rejection. Rejection is part and parcel of the job of an advisor. So you need to develop a thick skin and persevere otherwise success will elude you.
Nothing happens unless you get an appointment. Actually nothing happens unless you get lots and lots of appointments.
In order to stack the odds in your favor and achieve more acceptances you need to see a lot of people. Don't let fear of rejection be your reason for failing. Hone your prospecting skills and get on the phone and in front of as many people as possible.
#2 – Not following up
When people don't do what they say they will do we naturally feel let down. And the same goes for your clients. If you say you will call them back then do so right away, otherwise you will be deemed undependable. If you want to be the one to look after your clients' financial future you cannot be seen to be unreliable or untrustworthy. This will kill your relationship and you will fail. Keep in regular contact with your clients and give updates – whether those updates be good or bad.
Following up applies to prospecting too. After that promising initial meeting make sure you call for a follow-up chat. This is not being pushy – far from it – you are simply behaving professionally and being attentive. If your advances aren't met with enthusiasm you'll know soon enough – and you can move on. Leaving a voicemail doesn't count as a follow up. You need to touch base personally over the phone or in person, because the extra effort will be appreciated.
#3 – Not having a business plan
Too many advisors feel that if they do a good enough job they will get paid more. This simply doesn't happen. Most businesses fail because of a lack of vision. Without having a road map you are on a path to nowhere.
Imagine what you want and work out how many accounts you need to have in order to be successful.
How many appointments will you need to make to get those accounts? Where and how will you meet people, at seminars? How will you get referrals? Do a SWOT analysis to work out your strengths and weaknesses, and formulate your business goals. Once your goals are defined you can work out a strategic plan –and a schedule to help you get there. Don't delay performing this essential step because if you want to be successful it's not going to happen by accident.
#4 – Not having a repeatable process
New and keen advisors often fail because they are impatient to get immediate results. But in order to succeed you need to develop a repeatable process to get repeatable results and this will only happen over time. Let consistency – not perfection – be your goal. A repeatable process will help you focus your efforts where they're needed so that you get things right – every time.
Repetition is a way to get and stay organized. Believe in the process and it will give you confidence. Don't try something this month and something else next month. Don't try to set the world alight right now– aim to increase business year over year. Devise steps you can do over and over when it comes to prospecting. Acquire good habits and practice repeatedly. Learn from others. Start today. Get a rhythm going, and you will save yourself time and energy and eventually you will succeed.
#5 – Not listening
The only way you will get clients to invest in you and stay with you for the long haul is if you listen to them. You must listen to their needs, fears and motivations in order to understand how best you can serve them. Clients get very upset and disappointed when they no longer feel your service is personalized.
Failure to understand your clients' goals and objectives ranks highly as a reason to get fired. Never assume you know what your client is thinking. Listen, instead of following your own agenda, and you will be able to meet their expectations.
Achieving success as a financial advisor is all about developing yourself as a business person and communicator. Sound product knowledge and financial judgement are also required but you will not succeed without a full package of hard and soft skills.
Join Don Connelly 24/7 to hone your soft skills.