What Happens If You're Not Brilliant at The Basics?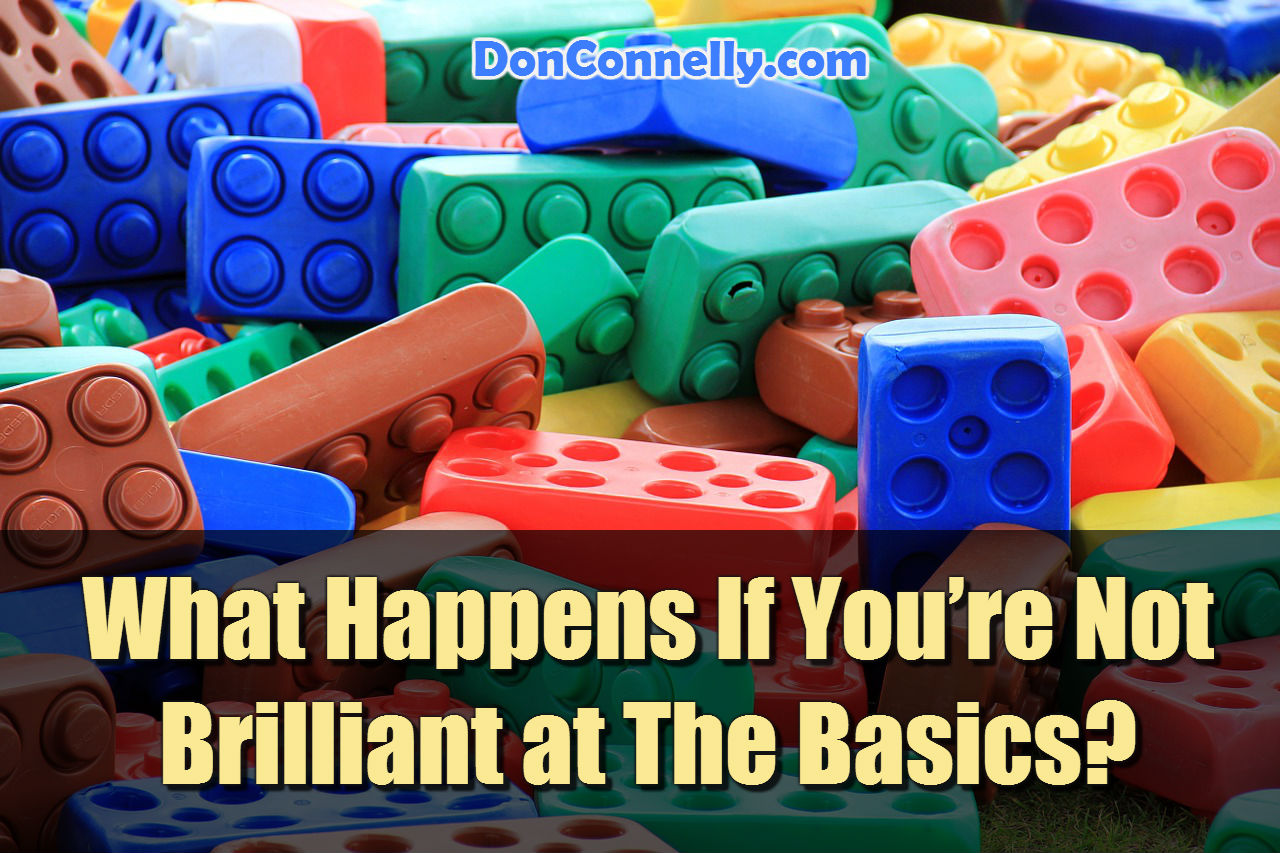 Only a tiny percentage of financial advisors get to the top and there's no mystery about how they got there. It's because they did what unsuccessful advisors didn't: they became brilliant at the basics.
Unless you nail the basics there's no way you can become an elite advisor. If you don't set goals, work hard, organize your time efficiently and practice your soft skills to perfection you won't have the underlying tools to take your business to the next level.
There are no shortcuts to getting the basics right. It will take time, years in fact. But if you don't put in the effort, you won't reap the rewards. If you don't get brilliant at the basics your career will fizzle out long before you achieve success. Here's a look at some of the basics and what happens when you don't get them right.
If you don't understand that practice makes perfect
Practice is everything. If you don't practice your presentation skills or refine your approach when it comes to asking for appointments and referrals, you will never be the best. Average advisors don't (or won't) put in the time to practice. And when it comes to practice we're not talking a little but a lot – every day. Otherwise you won't enhance your skill levels sufficiently to make a difference.
If you don't make prospecting a habit
You won't even move off square one if you don't master this basic habit. If you don't prospect on a daily basis and don't see getting appointments as your number one priority the odds are against you when it comes to converting prospects into clients.
Always be thinking about how you are going to get that next appointment, and this applies even if your appointment book looks healthy going into next week. Don't, like so many advisors 'talk the talk' when it comes to securing that next big account. Forget the why's and wherefores. Understand the basics: get on the phone and book that next appointment.
If you don't have a plan
Making a plan and sticking to it sets the scene for your future successful career. If you don't undertake this basic strategy you will kill your chances of success. Once you have a plan, list your goals and don't let anything stop you hitting them.
Advisors who don't set clear goals are operating in the dark which is why they get lost along the way. They often fail to set goals out of a fear they won't achieve them – out of a fear of failure. Overcome any apathy or fear you have about goal-setting or you won't succeed. Once you understand the satisfaction gained in hitting goals you'll gain a new confidence in your ability to succeed.
When you don't know how to face down your clients' fears and objections
If you don't become proficient at overcoming your clients' objections, you won't get them to understand your value and they won't commit to you long-term. So be like truly great advisors and learn how to become an engaging storyteller.
Use colorful, detailed analogies to create empathy in your listeners and illustrate how you can help them achieve their goals. If you don't show your potential clients that you understand their needs and that you can solve their problems and achieve their aims they will find someone else who can.
There's no need to overcomplicate this basic skill either. Keep it simple – simply learn two or three appropriate stories and stick to them. Get the basics right then do it right every time.
If you don't stick to the basics
Once you've mastered the basics it's far easier not to stick to them. Most advisors don't. Maybe out of complacency, boredom or fear of hard work. There are no immediate consequences of not doing the basics well all the time. But if you become complacent you'll start to slip. You'll start with a bad hour, which will turn into a bad day, a bad month and eventually a bad year.
So don't have bad hours. Learn the basics and stick to them. Spend that afternoon prospecting rather than playing golf and you will continue to get appointments. Don't break the chain. Most important of all, love what you do. Great advisors love the business so much they work hard, they continue to work hard and they get better and better at the basics throughout their career.
Learn to be brilliant at the basics with Don Connelly 24/7