Why Storytelling Is Important for Financial Advisors
Today we'll share the latest post Don Connelly wrote for Financial Advisor Magazine – it's about storytelling and more specifically, why storytelling is important for Financial Advisors.
You are not judged by what you say. You are judged by what the other person hears. That's one reason of many why you should become a great storyteller. Stories help you get your point across better than any other form of communication. Stories stir emotions. They resonate. They let people know who you are. As an added benefit, everybody loves a great story and everybody loves a great storyteller. Few things move a person like a good story. Storytelling works.
Read the full post on FA Magazine website
If you agree why storytelling is important for Financial Advisors and you think it's time to become a great storyteller yourself, we have the right solution for you: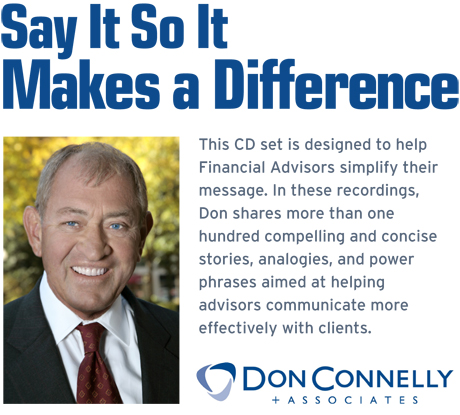 Buy this CD for $39.39 – it contains hundreds of great stories, analogies and power phrases designed to help you communicate better with your prospective and current clients.
You can also become a member of Don Connelly 24/7 – it has an entire module dedicated to honing your storytelling skills.