7 Things Many Financial Advisors Don't Do, and Fail as a Result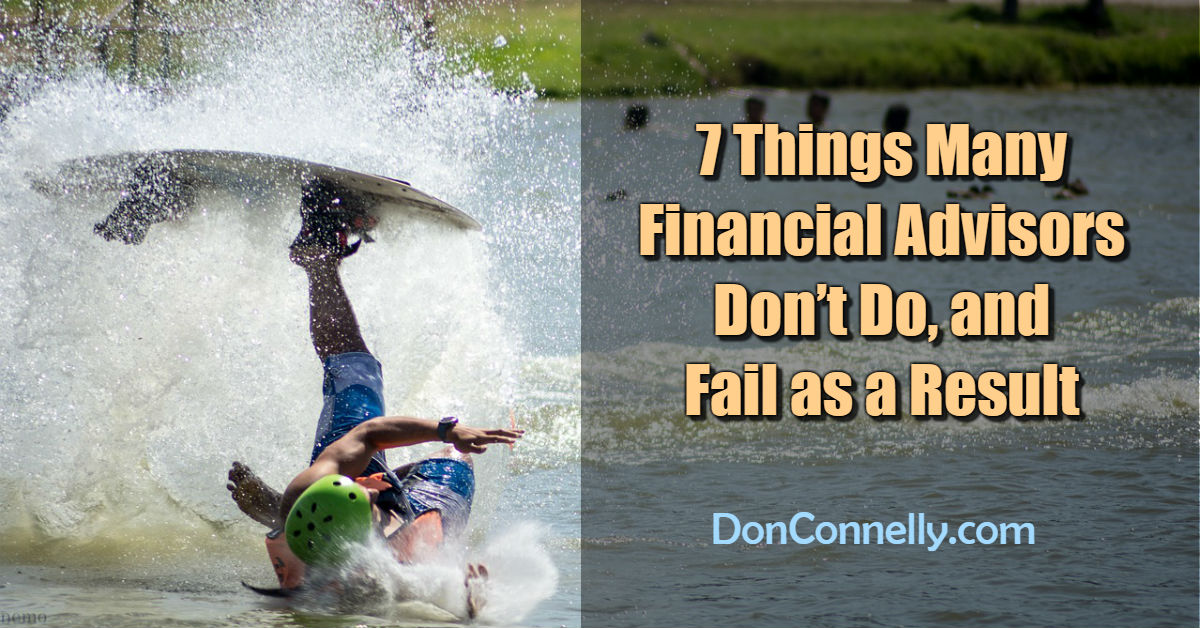 Much of the failure in this industry comes down to non-observance of the basics. Too many advisors fail not only to develop their soft skills but lack the necessary business acumen to remain viable. If you want to succeed as a financial advisor, learn from their mistakes and make sure you 'do' what they are 'not doing'.
Here are some things that many advisors are not doing – but should be.
#1. Write and revisit goals regularly
New advisors often fail because they don't have a clear vision of where they want to go. Without goals and a concrete plan of how to reach those goals they flounder. In order to succeed in this, as in any business, you need to work out a realistic business plan and re-visit it, often.
#2. Have a great work ethic
Success won't happen overnight, and this is something many advisors fail to understand. It takes discipline and perseverance to get to the top of this profession. So, if you're impatient, as so many new advisors are, and fail to develop repeatable processes – you won't grow your business.
#3. Track your time
By spending too much precious time on admin or planning to prospect when they should be prospecting, advisors keep their businesses stuck in a rut. With no awareness of how they are spending their time much of it is doubtless spent on non-money-generating activities. Time-management is an essential skill. Advisors that don't put their focus in the right places are doomed to failure.
#4. Keep things simple
Prospects and clients are unlikely to be financially savvy, so when advisors use excessive financial terminology, they leave prospects puzzled and annoyed. It's clear to these people that the advisor is 'showing off'.
If you don't make sure you're understood by keeping things simple, prospects will opt for an advisor who talks in layman's terms – and makes them feel more intelligent to boot.
#5. Return calls and follow up in a timely manner
When advisors fail to reply to calls and emails within a reasonable (and expected) time frame, clients quickly get the message that they're not considered important. If someone is paying for financial advice, they will naturally demand attentive service.
Other advisors get into the bad habit of not following up consistently.
If you have a good first meeting with a client don't make the mistake of leaving it at that, maybe because you don't want to appear pushy. If you don't follow up, you'll never know if you could have won their business with a simple reminder that you're keen to work with them. If you don't follow up, they might decide to go with the advisor who followed up and pushed the balance in their favor.
#6. Create trust
The main reason people decide not to work with an advisor is that they don't trust him or her. They leave the first meeting unconvinced that that advisor has their best interests at heart.
These advisors haven't used their soft skills to create a connection with prospects. They haven't told their 'who I am' story and haven't opened up to reveal their personality and authenticity. They haven't demonstrated they are fully on board with a prospect's goals or instilled in them the confidence that they can help them achieve those goals. Failing to do so gives then advisor little chance of winning new business.
#7. Keep in touch throughout bad market conditions
Advisors that run for cover when the stock market is on a downward slope will ultimately lose clients. By disappearing rather than getting on the phone they're putting their relationships in jeopardy. And often when advisors do make that call, they hesitate or stumble, only adding to their clients' anxieties.
It's imperative to be the first one to call and know exactly what you will say to your clients so you can reassure them about market volatility. If you're convincing, they will believe staying in is the right thing to do.
If you need help convincing clients that market volatility can be their friend, get our 
Bear Market Tool Kit
to learn how to expertly guide clients through bear or volatile markets and win new business during turmoil. 
A career as a financial advisor can be truly rewarding but success won't seek you out. You need to develop a plan, work on your soft skills and persevere with a work ethic that's second to none. If you do what most other advisors don't, you'll stay the course and reap the rewards of your efforts.
Join Don Connelly 24/7 so you don't walk alone and hone the soft skills you need to succeed.