What Financial Advisors Read The Most on Our Blog in 2016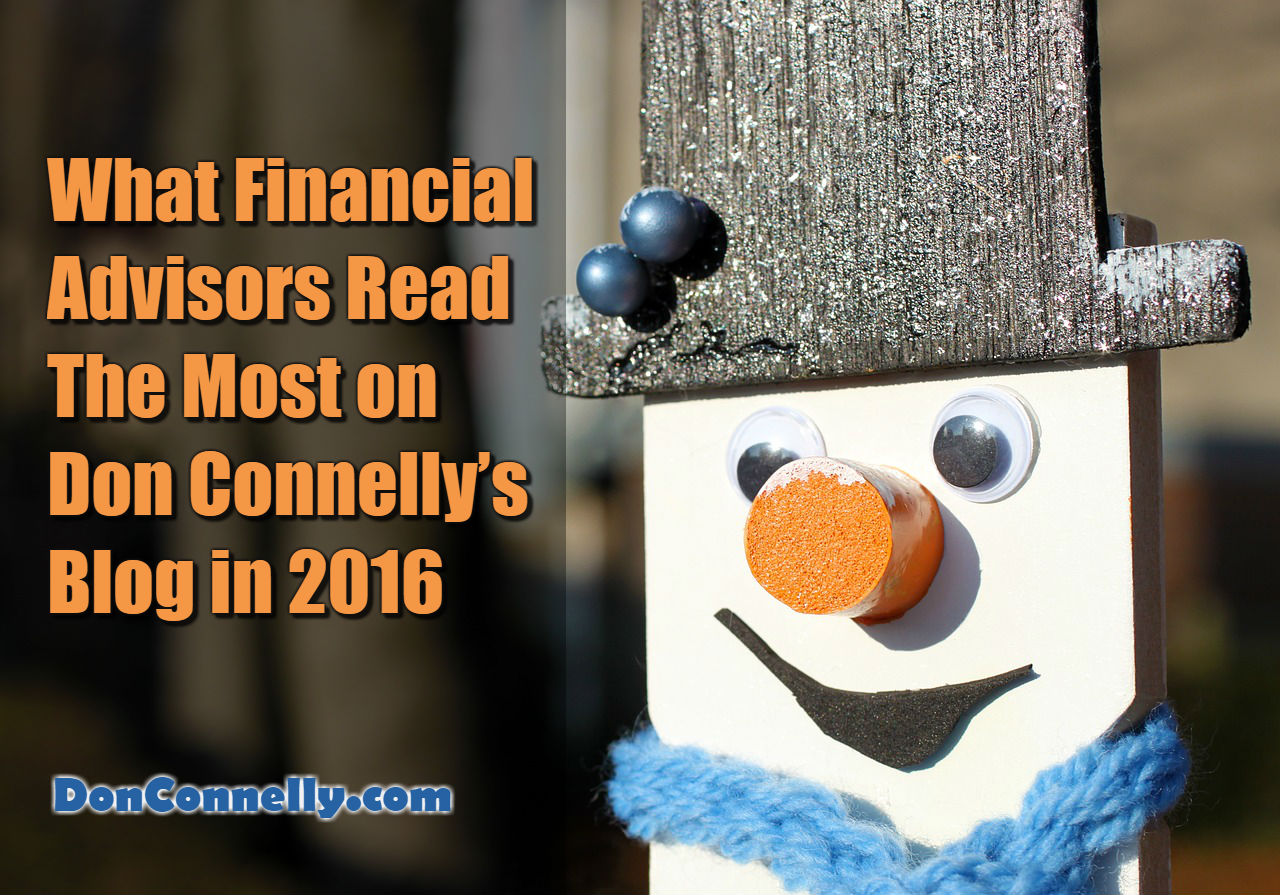 Did you know that you are one of over 30,000 Financial Advisors and Wholesalers who have read Don's blog posts in 2016? We decided it'd be great to close our blogging year by bringing back to your attention the top 10 blog posts that our community enjoyed the most during the past year.
Top 10 posts on Don's blog, published in 2016
If you're early on in your career and you're looking for ways to secure more appointments, then you'll most definitely be interested in the first three posts of this compilation.
#1. Approaching Strangers Can Only Change Your Practice for the Better
You were probably brought up being told 'don't talk to strangers'. However, this rule doesn't apply to adults, especially if you work as a financial advisor. Many advisors struggle with 'cold' approaching strangers and prospecting, because it makes them feel anxious and fearful. However, unless you conquer this fear you will not be able to take your business to the next level. Read more.
#2. Why Cold Calling Can Still Be an Effective Prospecting Method
Technology and the 'no-call' rules have changed habits when it comes to cold calling. It's no longer seen as the 'go-to' method for prospecting, with social media, the internet and networking often seen as better ways to reach out to new clients.
But there are good reasons why cold calling – when done correctly – is a quality tool and why it should be a necessary and permanent part of your business. Read more.
#3. How to Get People to Call You Back
This post is based on a question from Jesse in Grand Rapids. Jesse said he was having difficulty getting people to return his calls, after supposedly thinking about his proposal. He meets with prospects and makes his presentation. They say "Let me think it over, I'll give you a call" and they never do. After some time has passed, he calls them and leaves messages but they never return his calls. Why is that? Listen to the audio post or read the transcript to learn Don's suggestion on how to get people to call back.
If you are more interested in managing the relationship with existing clients or getting them do what you suggest, then the next two posts are what would probably get your attention!
#4. Getting Involved in Clients' Decision-Making Process
To win new business, earn loyalty and get referrals, you need to focus on what your prospects and clients are thinking. We all have our own particular 'mental model' or way we see the world, based on our beliefs and experiences. According to classic consumer behavior theory we tend to follow similar thought processes when we make a decision whether to purchase a certain product or service. By understanding this consumer behavior, you can tap into your prospects' thought processes early on and influence decisions in your favor. Read more.
#5. "What If Clients' Sentimental Equity Holding Doesn't Match Their Risk Tolerance?"
This post was based on an email Don received a while ago from Mike at Edward Jones. The email read as follows:
What is the best way for an FA to approach a client about an equity holding that has sentimental value to the client but does not fit their risk tolerance? I have a 75-year old widow with over 50% of her net worth in Disney stock. I also have a widow who inherited her husband's IRA at another firm. She had no idea what was in it, it was with an advisor she doesn't know. Turns out it is 60% in aggressive investments, but she still wants to keep it there. Help.
Listen to Don's answer or read the transcript.
And if you for some reason feel you've lost your way, or you're stuck and cannot move on to the next level in your career, then we urge you to read the next three blog posts. They will help you find your way back to success.
#6. Read This If You Need a Boost in Self-Motivation
At some point in your career as a financial advisor you will experience a lack of motivation. When this happens you can either stay unmotivated and fail, or develop a new course of action and succeed. The following post includes some tips to help you do the latter. Read more.
#7. Getting Back on Track
Don is often asked what he reads. One of the things he reads is the Motivational Manager. They once reprinted an old treatise written by Harry Joiner at ecommercerecruiter.com called – "Before you apply for your next job". The title of the Motivational Manager article is simply "Disengage autopilot and take control of your career" and it's really important for advisors to hear this. Listen to the audio or read the transcript to learn more.
#8. Nobody's Holding You Back but You
This is a true story of a young boy being sent home from school with a note from his teacher. The boy happened to be deaf. The note said – "This boy is too stupid to learn." Listen to today's short audio post on brilliance and get inspired for success!
And finally, a couple of posts dedicated to help you improve your soft skills and take your business to the next level.
#9. A Blueprint for Aspiring Million Dollar Producers to Follow
A while ago Don received an email from Guy Steele who was a friend and an advisor in Hawaii. He said:
"Give me an idea of how a million dollar producer works. How many calls a day do they make? How many hours a day do they work? Mentally what's their mindset each day when they go to the office? Do you have a blueprint for aspiring million dollar producers to follow?"
Listen to Don's answer or read the transcript.
#10. Financial Advisors Who Lack These Soft Skills Often Fail
The ability to master soft skills is key to your future success as a Financial Advisor. In fact, it's easily as important as how much technical knowledge you have. However, advisors often struggle to develop the key soft skills required to build relationships with prospects and clients – and consequently their business suffers.
Perfecting your soft skills should be your number one priority. This post will help remind you to get back to the basics by focusing on five soft skills that could make or break your business. Read more.
The year 2016 was great for us – we hope it was great for you, too.
To make 2017 even stronger, we invite you to bring back the basics and focus on honing your soft skills.
Consider joining Don Connelly 24/7 – check out our 30-day trial offer.