5 Red Flags That Will Cause Your Prospects to Dismiss You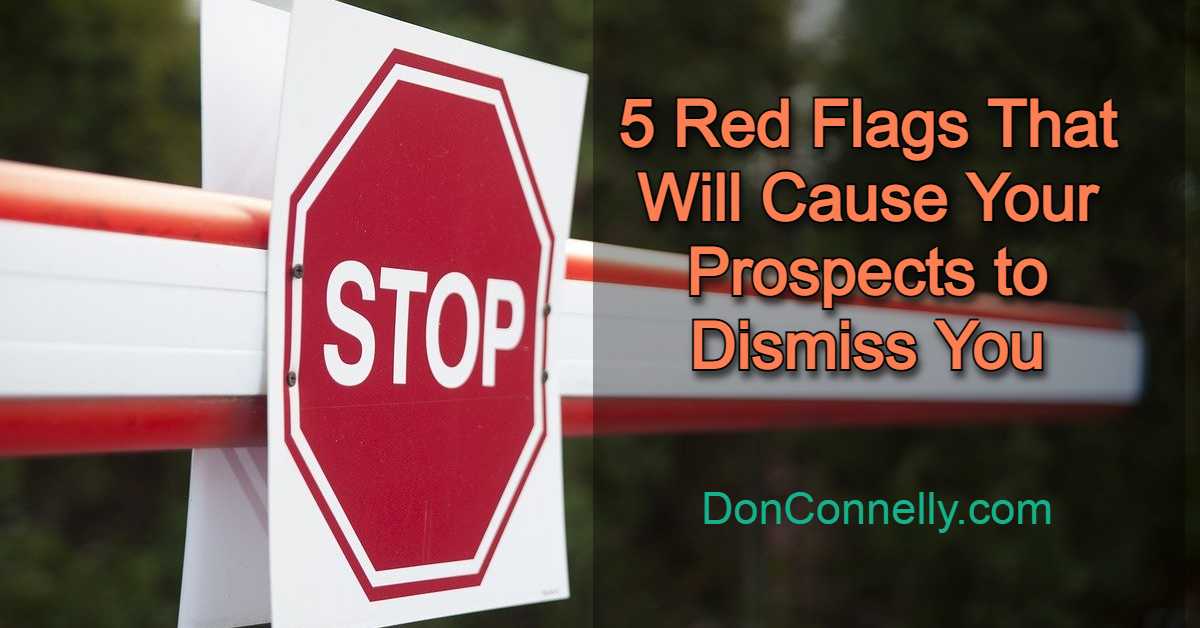 You never see it coming, and you may never know the reason why. A prospective client you have carefully cultivated agrees to a meeting to learn more about how you can help them. It seems to go well. Their heads were nodding up and down, and they laughed at your joke. At the end of the 30-minute meeting, you suggest the next step with an offer to follow up with them. Turning toward the door, they reply, "We'll let you know."
You know that's the end of it. So, you replay it in your head, asking, "What were the red flags that soured their perception of me?"
Whether the outcome of a prospect meeting is good or bad, you should always replay it in your mind. With a positive outcome, you need to know what worked and why. For a negative outcome, it's vital to understand what didn't work and why. Identifying the negatives is often more difficult because it's hard to be self-critical. But that's where the path to self-improvement begins. To help in your diagnosis, we list the five of the most common red flags that could cause your prospects to dismiss you.
Red Flag #1: No personal connection
Clients today want to know their advisors on a personal level. If they don't feel there's a possibility of a personal connection, they'll have difficulty trusting you. That means opening up about yourself while encouraging your prospect to open up about themselves. That's not easily done in a first meeting, but you can prime the pump by doing some research on your prospects. That's why we have Google and social media. It's not about snooping but rather about knowing your prospects. You can be certain your prospects are checking you out as well.
You're likely to find out you share common interests, friends, or business associates. At the very least, you'll be able to focus on some of their interests. That's how you begin to build a personal connection.
They get to know you when you are authentic, revealing things that tell your prospects who you are and why you are doing what you do.
Red Flag #2: Talking more than listening
We all have learned about the importance of listening. It's Communications 101. But it's too easy for some advisors to slip into presentation mode and take over a conversation. If you spend more time talking than listening, the meeting is about you, not them.
You are almost guaranteed success in a first client meeting if your prospects dominate the speaking time. You control that with questions. When you present an idea or talk about your process, stop intermittently to ask how they feel about it or if they have any questions.
If you know little about their goals, needs, history, family circumstances, and what keeps them up at night by the end of the meeting, you will likely lose that prospect. However, if you can demonstrate that you were really listening, they will begin to trust you.
Red Flag #3: Talking down to them
It doesn't always happen on purpose. But, when you slip into advisor-speak and start with the jargon, it can make your prospect feel less intelligent. It's certainly a sign that you care less about your prospect than you do with what you have to say. This is the first and maybe only opportunity to position yourself as an advisor who knows how to explain things in a way that makes clients comfortable. If you need to talk about your process, check with them frequently to see how it's going down.
If you need help simplifying your message and always be understood, get the
2-CD set or mp3, Say It So It Makes a Difference
– contains hundreds of stories, analogies and power phrases, designed to help you better communicate with prospective and current clients.
Red Flag #4: Not linking their values to the value you bring to the relationship
Clients want to talk about their values—what they believe, what's important to them, their attitude about money, etc. More importantly, they want to make their values the basis of their financial plan and the decisions that stem from it. That's your queue to talk about what you bring to the relationship to ensure their values are reflected in everything you do for them.
Emphasize your personalized service or specialized expertise. Let your prospects know you'll be their financial coach to keep them on track. Show them how your planning process focuses on their values.
When your prospects meet you for the first time, they're measuring and weighing whether the value you bring is worth the fees they may be paying. At a high level, they're paying you to be a relationship manager, not a portfolio manager.
Red Flag #5: Not finding out what they want from an advisory relationship
It seems so obvious, but many advisors will go through an entire first meeting without finding out what the prospect wants from an advisory relationship. It's as simple as just asking the question. It's especially critical if the prospect has left an advisor. Find out why, how they felt about the relationship, and what they hope to get out of a new relationship. At the very least, it's an opportunity to reinforce everything you did correctly in the first meeting by building a personal connection, listening more than talking, not talking down to them, and linking their values to the value you bring.
Watch this 3-minute video to learn how our workshop 'Become the Obvious Choice' can help you develop and hone the soft skills needed to connect with prospective and current clients and take your business to the next level.
See details and reserve your seat today!
Call 941.346.1166 for discount pricing for multiple Advisors attending from the same branch. Need more info before committing? See event details here.